Real time information, data and event triggers from your modern furnace!
Save time with communication features using MHI's new Control Panels.
MHI furnaces incorportae the best soft-start features


MHI DACS1 module shown with the RS232 converter module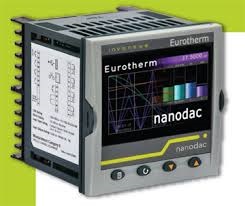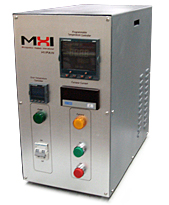 DACS2 with HIPAN and XPAN
DACS2 will offer the advance built in data acquisition system combined with PID control.
The compact ¼ DIN controller offers four universal inputs for data recording and two PID control loops with a full color 320x240 pixel graphical 3.5" TFT display for a crystal clear operator interface.
Configurable real time views including horizontal and vertical trends, Horizontal and vertical bar graphs, Alarm status and control loops.
Up to 30 additional virtual channels can be utilized to provide different functionalities within the instrument.
Optional Dual programmer supporting up to 100 programs with 25 segments each.
Ethernet communications with Modbus TCP or FTP protocols for communications with third party software. Like Labview and others
Built in 50MB of non-volatile flash memory for data storage. Automatic data archiving to a removable USB memory stick or FTP to a secure data location through the built in Ethernet port.
---