VTA and LTA Airtorch™ Models
Flow units are supplied with several safety features like the over temperature cut-off feature and the low flow cut-off feature
LTA Airtorch ™ models are process air heaters designed for compressed air/gas input. LTA models offer temperatures up to 850°C. Exit and inlet diameters and threading is described below along with each model number. Please click here to view quick information and prices for LTA and MTA.
VTA Airtorch ™ models are process air heaters designed for use with fan/blower (maximum back-pressure of 50 w.c./inches of H20 ~ 1.8 psi.).
Popular Models VTA750-4GS, VTA-1GC, VTA900-10BL. Please click on tab s below for more technical information.
Airtorch Operation: The flow rate and temperature are connected. The air/gas heater should not be used beyond its rated temperature or power. The thermocouple is integral to the heater. The principle of an air/gas heater is for flowing gas to heat within the residence time of heater/configuration.
Flow Rate is Important: If using a blower or fan the air flow will be controlled by the characteritics of the fan or blower. Fans are employed when the drop in pressure of the system is no greater than approximately 50 in. w.c. (50 in. w.c./inches of H20 is approximately 1.8psi.) This condition remains true even when the fans output large CFM.. Blowers are considered in circumstances where larger pressure drops are present.
For LTA and MTA where the inlet flow is pressure driven, the flow rate is often set by an appropriate SCFM flow meter. Minimum flow rate should be maintained. MHI power controllers can be used to set power.
4 kW VTA VTA750-4GS with fan

850C VTA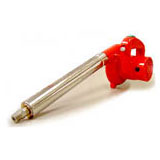 600C VTA