Need More Power?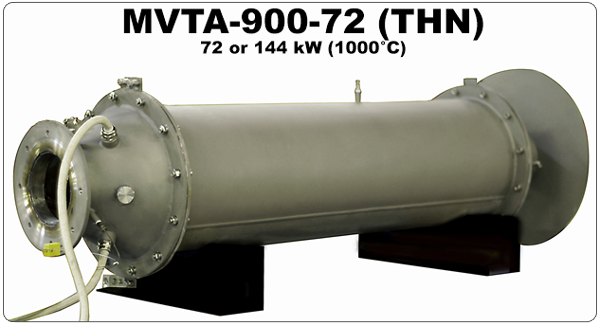 The high power three phase Airtorch™ configuration yields a large amount of high temperature convective air and may be used for a variety of applications. Use for surface heat treating, simulation, combustion ets, environment uses, preheat, drying, powder sintering, test beds, and large and continuous ovens. Our Airtorch™ systems are extremely energy efficient. Stainless steel or other flanged sealed systems provide both energy efficiency and conservation.
The kW required depends on the temperature of the exit gas from the Airtorches™ and the flow volume required. Please use Easy Design Criterion on the our website to calculate approximate temperature vs. flow rate for a fixed power or an Airtorch™ model number. We also provides flow rate vs. temperature information.
Airtorch™ models may be purchased with several exit configurations which are specific to the model. In addition, further manifolding is possible.
Suggested Uses: Process heater, simulation, stands, large dies, gas heater, gas preheater, air-preheater, supplemental heater and many other process heating applications.
Questions? Please give us a call 513-772-0404 or send email to sales@mhi-inc.com