MVTA and MTA925 Flanged Sealed Process Heaters upto 1100°C
MVTA models to 1100° (2100°F).
(both sealed and combustible gasses)
---
Convective Heating is One of the Most Versatile Ways of Delivering Heat!
Temperature up to 925°C in MVTA925 models and 1100°C in MVTA models. These are sealed process gas heater with fan or blower capability. Temperature measurements are reported at the integrated thermocouple location supplied with the Airtorch. Should you require to heat combustible gases for abatement purposes such as for semiconductor gas abatement then please contact us for custom solutions like the MVTA925-GA6125-H2.
GTA or GVTA - For high pressure vessel Airtorch use. Custom engineering. Please contact MHI directly.
Data Acquisition and Electronic Controls are available.
Features and Applications
Robust Design
Clean and Green product with high energy efficiency
DF (Direct Flow). Low Resistance.

Automotive Applications
Service Plan (No Downtime)
Solid Oxide Fuel Cells
2kW to 600kW Models.
Integration Technology
Installation Services Provided
Special Application with Low Cost Blowers and High CFM
Energy Efficient

In-Line Configuration

Maximum Operating Temperature of MVTA925 is 925°C (1700°F). MVTA models to 1100° (2100°F).
Need more power? High watt models.
Gas Accessories
Accessories that are currently available for our MTA & MVTA Models
Please contact MHI for GVTA or GTA models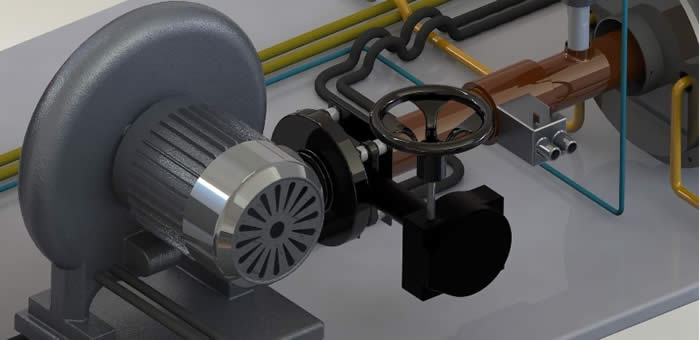 Blower and low Flow detection system.
Testimonials
Some Of Our Many Satisfied Customers Using our Airtorch Products. Small to large kW. Link to articles.
R.S. , OH
"We purchased the 10kW Airtorch™ to perform rapid cycling tests to qualify our product for a new customer. We have secured the contract and the Airtorch™ is still going strong for 2 years. We are now using it for new development projects."
J.M. of Morgan Tool
"Using the LTA as the primary heat source for my customer's tool turned out to be a wise decision. It's robust for continuous use in a shop floor environment."
C.A. , UK (International)
"I am very satisfied with the Airtorch™; we operate it everyday between 1100 and 1200°C for our experiments."
E.L. of National Lab, USA

"I really like the LTA ... very much. They are incredible! As per my calculation, we are seeing (very high) efficiency..."
Jim V. , Michigan
"This device will save us money."

Specifications subject to change at the time of quotation.
Fans are employed when the drop in pressure of the system is no greater than approximately 50 in. w.c. (50 in. w.c./inches of H20 is approximately 1.8psi.) This condition remains true even when the fan can output large CFM values. Blowers are considered in circumstances where larger pressure drops are present.
Contact Us to design the best solution for your application.