Robust Radiator™ Implementation Photos
Shown below are some actual use pictures which our customers have sent to us.
The Robust Radiator™ shown below is being used daily in Europe for (now over 62 days at approximately 1550°C) for a melting application. The customer wrote us and was happy that it was still in good service. The ID of the RR is about 8". We thank the customer for sharing this valuable information with us. See other testimonials.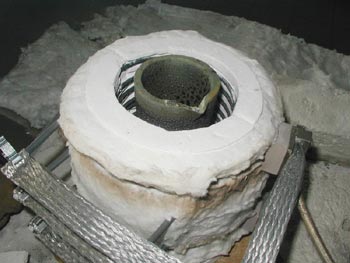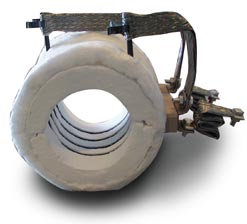 Historical Detail.
Picture of the first Robust Radiator™ sold by MHI is shown below. From what we can tell it is still in service! The design has come a long way since then, but some features have not changed, we still offer the unit with FiberFree™ refractory and long lasting MHI elements. The Robust Radiator™ shown below is in use in a University where researchers have to heat a small section of the ceramic tube to 1400°C.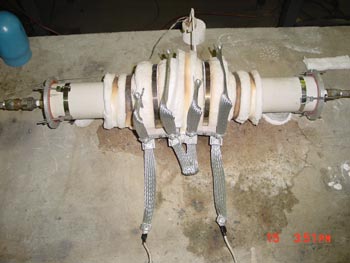 (Date of posting this feature is September 10, 2003)
FiberFree™ is a trademark of Mattech Corporation.
Return to Main Robust Radiator Page