Description
MHI HP220-GAXP-1000 High Temperature Thermoplate(TM)
Please click here to contact MHI
9″D x 9″L Thermoplate(TM) for use up to 1000°C.
BPAN-O-PLUS control panel is included. MHI may substitute HIPAN or equivalent when the optional MHI  DACS is ordered.
Stainless steel construction.
Ceramic top for rapid heat up.
4 Second heat-up rate after reaching full power after first run of the day.
Spiral/Square elements provide extremely uniform temperature distribution.
Max Power ~4KW
Rated for about 2 Kg well distributed load.  Please choose strip customization to enable weight up to 4 kg.
MHI BPAN Control Panel Details:
MHI BPAN-O-PLUS control panel with full furnace electronics (with two t/c's) is shown.   A picture of the  BPAN-O-PLUS is shown.
PLUS models have process and over-temperature controls. The over-temperature control t/c (supplied) may be used for placing on the plate or inside the lid.
The control panel houses switch gears, fuses, and circuit breaker.
Standard Controller:   The temperature controller(s), wiring and contactors and  for heating process are CE and UL rated.  If more ratings are required please contact MHI.
Featuring 1/16 DIN digital display of set point and process temperature, PID temperature control, and adaptive tuning.
Compatible with MHI-DACS Data Acquisition and other third-party data acquisition software (optional – please contact MHI). Or please click to https://mhi-inc.com/PG4/data-acquisition-control-software.html
the BPAN-O-PLUS has aMHI ST9001 single phase SCR (or equivalent) with advanced current limit and soft start feature. Wiring requirements: 208-240 Volt, single phase @50/60Hz, 35Amp Max current (if voltages of 208V or 220V are desired, please indicate at time of order).  A suitable power transformer is included.
Please choose Thermoplate Lid if required.  Lid covers the Thermoplate and is 1.5″ high (internal dimension).  Handle for removal provided –  please note that handle although insulated may be hot ~+100C.  Please use high temperature gloves for safety.
if cUL or UL is required please select option in the pull down menu.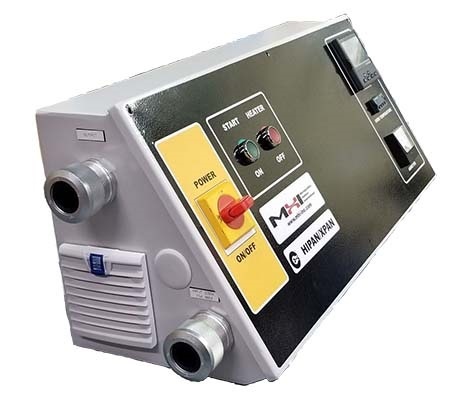 Visit our Thermoplate Section for more information and for price quote.
Shown below is the picture with Lid Chamber
Please contact MHI at 513-772-0404 or by email at [email protected] should you have any questions or need more information.