Description
MightySteam® 
Pure Steam High Velocity 50m/s.
MightySteam®-4 generates instant steam up to 752°F (400°C). Compared to existing steam generators, the MightySteam® technology offers considerably hotter steam. Higher temperatures mean faster cleaning and more power. The MightySteam®-4 model includes a pump and all other items required for immediate use.  Some assembly is required.
MightySteam® does not use a pressure type of boiler.  Consequently there is little mess to clean up later.  Consider for food equipment, grease filters, and other similar items.  Clean within seconds with just steam.
MightySteam® uses patented BoilerFree™ technology to deliver steam temperatures about  752°F (400°C) within about one minute of initial power.
It also means no heavy pressure vessel to drag around and re-certify each year.  No mess with water jets.
More cleaning information on Bayzi (www.Bayzi.com).  If purchasing four or more units please contact MHI by clicking this link.
Use these units to quick-clean at many levels.  Top Row shows Dirty Chuck. Bottom Row shows cleaned with proper super-heated steam with a steam pic.  Time for cleaning:  few seconds.
Example of De-greasing and Cleaning of  Greasy/Dirty Metal Equipment.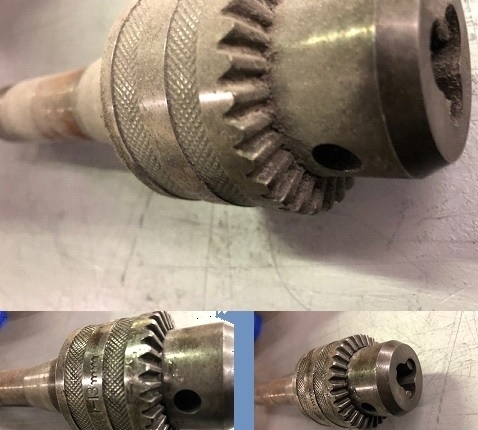 Use for cleaning, canning, biofuels, oil and gas  and antimicrobial.  Contact MHI for custom solution