VTA and LTA Airtorch® Models
VTA Models with integrated fans.  LTA Models with compressed air input fittings.
This web-page shows small to medium KW MHI models for the Airtorch® Gas Heaters.  Warranty covers the heaters.  If the flow rate is of the order of 2-40 scfm and the temperature required is below 925°C please choose from the MTA, VTA or LTA models or the MVTA925 flanged units.  If the flow requirement is higher than 40scfm or if these is a pressure requirement please choose from MVTA or GVTA models.
If the temperatures required is above 925°C, please send a requests to MHI with request details of the request and we will offer the most suitable model for you.  Please always feel free to contact us.  Airtorch® units are supplied with several safety features like the over temperature cut-off feature and the low flow cut-off feature (model dependent).
Click here for Large Flow 3 Phase Heavy Duty Airtorch® Models
VTA Airtorch®
VTA models are process air heaters designed for use with fan/blower (max. back-pressure of 50 w.c./inches)
VTA models 600°C – 1100°C models.
LTA Airtorch™
LTA models are process air heaters designed for compressed air/gas input. LTA models offer temperatures up to 1000°C. LTA models work with compressed air.  Exit and inlet diameters and threading is described below along with each model number.
For extremely low flows ~0.5 SCFM up to 1200C.  Sometimes used for Fuel Cell Laboratory Demonstrations.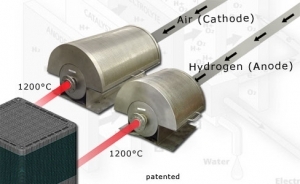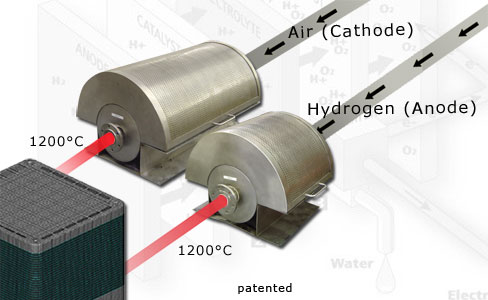 Flow Temperature Curves / Airtorch Application Information Page
Airtorch Operation:  The flow rate and temperature are related. The air/gas heater should not be used beyond its rated temperature or power. The thermocouple is integral to the heater. The principle of an air/gas heater is for flowing gas to heat within the residence time of heater/configuration.
Flow Rate is Important: If using a blower or fan the air flow will be controlled by the characteritics of the fan or blower. Fans are employed when the drop in pressure of the system is no greater than approximately 50 in. w.c. (50 in. w.c./inches of H20 is approximately 1.8psi.) This condition remains true even when the fans output large CFM.. Blowers are considered in circumstances where larger pressure drops are present.
For LTA and MTA when the inlet flow is pressure driven, the flow rate is often set by an appropriate SCFM flow meter. Minimum flow rate rated for the should be maintained when powered. MHI power controllers may be used to set the power and temperature.

Please click on the tabs below for more information
VTA Models
VTA models include an integrated Type "K" thermocouple. The VTA models are highly energy efficient, allowing for less energy use and cost savings. VTA models are fully compatible with MHI electronic control panels, allowing for accurate control of flow rates and temperatures for your process. Suggested uses for these models include integration into existing heating systems for cable conveyors, drying, process heating, coatings, production line heat treating and a number of other specific process applications.

Most units are compatible with an optional control panel. Contact us or call us at 513-772-0404. VTA-BL models have integrated air/gas controls. VTA models offer low flow cut-off with extendable user interface. Fan control is available with the FANCS, which also includes a temperature controller.

Schematic of Blower, Air Flow Valves and Low Flow Safety Features Provided by MHI are shown in the adjacent picture.

10kW power Airtorch VTA900-10BL – Use up to 900°C
Designed for Energy Efficient Fan/Blower Inlet

MHI Airtorch Systems are offered with variable input attachments that suit customer requirements. The blower,valve and low flow attachments are shown for the VTA900-10BL
Model
Power
Voltage
Max Temp
Max CFM @ Max Temp
Diameter>
Height
Air Supply
Inlet Integrated with Fan or Inlet Accepts Blower
Exit
All dimensions and accessory models are typical only.
AIR CONNECTION
VTA750-4GS
4kW
208/220/230/240
Call
Call
4.0″
(100 mm)
27.5″
(698.5 mm)
Fan model: MK4XL
Fan/Blower
2″ NPT
VTA900-10BL
10kW
208/220/230/240
900°C
Call
7.0″
(177.8 mm)
27.5″
(698.5 mm)
Call
Blower/Please confirm with MHI the inlet and outlet dimensions of your specific unit
call
3-Phase Custom
(high kW)
240/440/480
Variable: 700 -1100°C
Call/Contact
Call/Contact
Depends on Model
Typical 10-20 inches Diameter and about 50″ Length.
** : FANCS: Fan speed controller and temperature indicator