High Temperature Furnaces
May 16th, 2017
High Temperature Furnace Family
| | |
| --- | --- |
| | MHI is a manufacturer of high temperature energy efficient furnaces. Our furnaces meet the highest standards for quality, energy efficiency, and performance. From the laboratory scale Z-Series Box Furnace and the robust motorized bottom-loading/ opening furnace, to our novel steam furnace with a rapid heat-up rate, MHI has a high temperature heating solution for even the most demanding user. Our design team has the expertise to make true customization possible. We are able to build to your specifications from the ground up. |
M-Series Box Furnaces




M-Series Box Furnaces have seen use in both laboratory and production environments due to their high operating temperatures.


H-Series Tube Furnaces




Our H-Series Box Furnaces are quickly becoming the standard for research/production applications due ti their high performance and reliability.

Split Tube Furnace




MHI Vertical Split Tube Furnaces are the most versatile laboratory testing furnaces and offer the best value for mechanical testing.



Z-Series Furnaces




MHI's Z-Series Box Furnaces are the smallest box furnaces we manufacture, with internal dimensions of 6"H x 5"W x 6"D and excellent uniformity.


What modern features should you expect from your furnace manufacturer?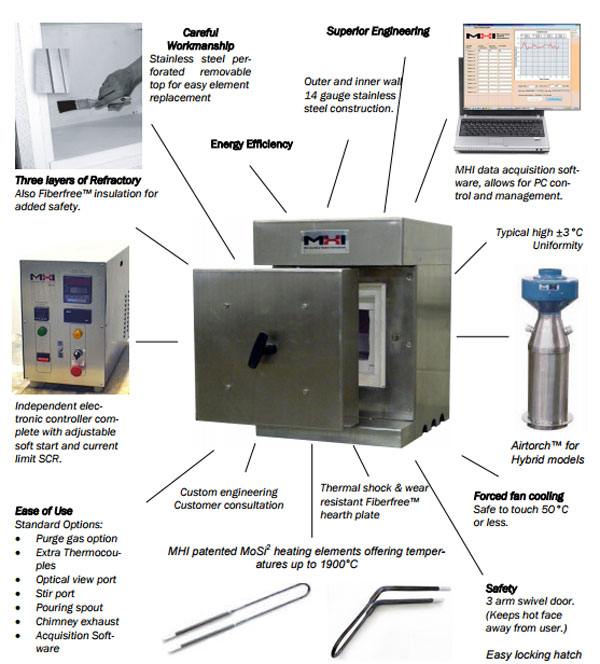 Thermoplate™ Laboratory Hot Plate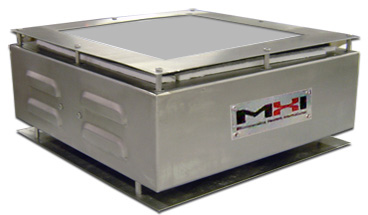 MHI Thermoplates™ are an industrial grade, high power, high temperature hot plate capable of reaching temperatures of 1250°C within 4 seconds after initially reaching full power. Ideal for use as a laboratory hot plate. Thermoplates™ feature a stainless steel construction and electronic controls. Thermoplates™ are offered with quartz or ceramic tops, both exhibiting excellent uniformity.

MHI FURNACES ADVANTAGES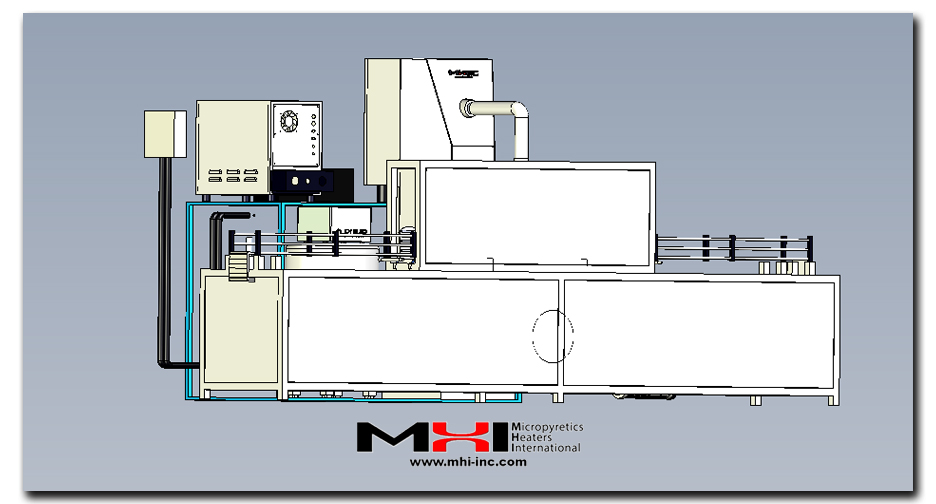 MHI is a leader in high temperature hybrid designs for batch and continuous loads. Contact MHI for simple design criteria for continuous loads from textile, packaging ...

DID YOU KNOW?
Although it is not clear who invented the first radiant furnace for industrial use, it appears that the first use was around circa 1850. A good furnace today is considered one that produces no emissions when the heat is generated, offers controlled heat-up features, and provides good fiberfree™ insulation for energy efficiency and safety. Did you know that any surface at a temperature of 1500C emits radiation of almost 560kW/m2 – a very high amount compared to an average gas flame averaged over its emissive area? Read More...?


750 Redna Terrace
Cincinnati, OH 45215, USA
Telephone: 513-772-0404 | Fax: 513-672-3333
© Micropyretics Heaters International Inc. 1995 - 2014
You are currently signed up to MHI-INC's newsletters. To unsubscribe click here.