Hot Plates & Radiators
Thermoplate™ and Glow Panels
Thermoplates and HeatPads are rated by the temperature and surface area.
Glow Panels are rated by the device power, radiation area and the radiating temperature.
Thermoplate™

Models

HeatPad™

Up to 3.5" diameter

GlowPanel™

Up to 48" wide

MHI offers a variety of specialized surface and radiative heaters
High Life, High Warranty, High Power, High Temperature, High Heat-up Rate
Thermoplate Models
Thermoplate

1000°C


9"L x 9"W
HP220-GAXP-1000

MHI Controls
208-240V Single Phase

1200°C


9"L x 9"W
HP220-HIGHBO-1200

MHI Controls
208-240V

1400

°C

9"L x 9"W

MHI Controls
208-240V

1500

°C

9"L x 9"W

MHI Controls
208-240V
Custom models to 18"L x 24"W. (240-480V Three Phase). Request Information.
Glow Panel Radiator Models
Glow Panels

Heat with >150 W/sq.in

18"L x 22 "W

Special Industrial
Radiators

24"L x 24 "W

36"L x 36 "W
Contact
New*
User Assembly Scalable Flat Heating Panels for High Temperature HOT Plates and Glow Walls
Please Click Graphic for Details.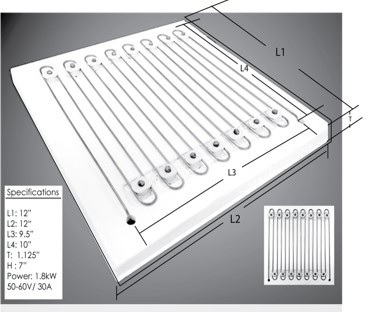 Customer Feedback
Hot plate:
"...experience was that the hot plate center would get to temperature first then over time the edges would come up to temperature and be uniform. I believe once steady state was reached the uniformity was +/- 2 or 3C."

Please call MHI on details and full explanation. The uniformity depends on the thermal environment and other factors.