Questions? Contact Us.
Please use the form below to request information about MHI Products or general inquiries. Let MHI impress you with energy efficiency, sustainability, and climate change initiatives. MHI products are enabled with modern materials and designs. Telephone: 513-772-0404 Alt Telephone Number: 513-286-1222 Alternate Mobile Number for WhatsApp 513-237-7755 Fax: 513-672-3333 We are happy to discuss energy benefit calculations.
MHI has received numerous awards for its patented heating technologies. Please contact us today to see how we can help your business or research! Our sales team is here to help you find the right solution for your application.
 
Our catalogs are our web pages. Please click on any picture below and follow the links: experience faster, more efficient heating with MHI's patented technologies. Our solutions can help you cut costs and improve productivity. Contact us today to schedule a consultation and learn how our patented heating technologies can benefit your business or research.
e

Furnace Handbook

e-Ion Plasma™ Handbook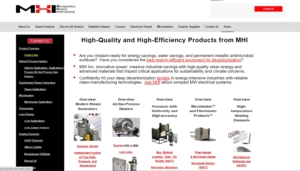 MHI Product Family