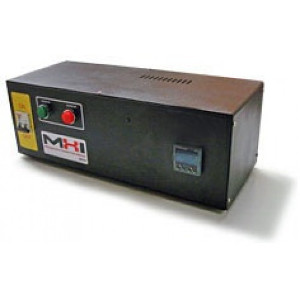 TEMPERATURE And POWER PANELS (Home Page)
Calculate three-phase parameters
TRIPAN-PLUS
BPAN-O and BPAN-O-PLUS

Specify (-T) in the model number if the device voltage is less than 4V

TRIPAN

SPECIAL PURPOSE HEAVY DUTY

Contact MHI
Three Phase |TRIPAN |  Single Phase | XPAN & HIPAN, BPAN |
Return to the main MHI page for all energy-efficient products like Furnaces, Steam, Airtorch®, Novel Materials, and Modern Controls.
Three-Phase Control Panel Options 
The three-phase control panels offered by MHI fall into two categories. The ITRIPAN is for steady loads. The TRIPAN is a more versatile product for sophisticated controls and data transmission. A significant difference between the two kinds of panels lies in the functionality of the SCR in the panels. The SCRs used in the TRIPANs offer softer load control, significantly more sophisticated control options, and a current limit stabilization feature.
ITRIPAN 
One control zone
One limit controller
Quality controller
Contactor for the load.
Fuses
Indicator for heater-on
Junctions for thermocouples
NEMA – 4  or NEMA 12.  Box cooling 3R Style
SCR -2 pole, zero-crossover type with proportional functions.
TRIPAN and TRIPAN-PLUS
One to multiple control zones
As required, limit controllers (Typically Eurotherm or similar)
Quality process controller (Typically, the brands offered are Eurotherm or similar. UL CE Rated)
The contactor (s) for the load
Fuses
Indicators for heater-on and other indicators
Junctions for thermocouples
NEMA – 4  or NEMA 12.  Box cooling 3R Style or AC cooling
SCR -Phase angle fired with current limit
Ethernet as required or RS485 (customer option for communication).
Optional PLCs depending on the type of device
Optional HMI depending on control options, and type of device
EStop and remote Estop connection
Other dry contacts for customer integration into systems like Bacnet

Display 15 Products per page