MICROHEATER MODELS (Choice of 1400°C, 1600°C, and 1900°C Models)
Very low power.  High Temperature. High Emissivity.

Model: MHI GAXP-SPOT-HTR
MHI's Microheaters™ utilize the patented NanoFractalAlumina™ and Fractalins™ materials, allowing for the higher radiative temperatures and the corresponding energy-efficient smart-device high-performance criterion set by MHI. MHI Microheater™ models are illustrated in the adjacent info-graphic. Custom – special orders are available.
Please click on the Microheater™ product picture that has the best application possibility for the application you have in mind.   For questions, please do not hesitate to Contact Us by email or call at 513-772-0404 for information regarding microheaters and nano heaters. Thank you. 

Or click on the picture on the grid for more information. Free radiating devices maximize the RADIATIVE POWER transfer from the heating elements. If the heating element is used with an insulation cover, the objective becomes a target temperature inside the insulated region. For either purpose, one cannot exceed the rated temperature of the heating element. Please note that the maximum temperature for any thermal device is reported at a specific region (location).
Microheaters are helpful in various applications such as materials processing, heating, and deposition, including additive manufacturing, targeted heating for stress relief, fiber-joining, channel heating, automotive plates, engine heating in cold climates, ship instruments, space heating, and propulsion, and many more…
New –   high power density, high temperature "spot radiators."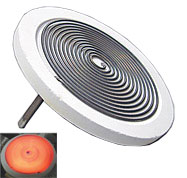 Cross Line Orthogonal Terminals
Complete controls package available
Unique high watt density, one-sided circular spot heater
1″, 2″, 3″, and 3.5″ models
Design with terminals as shown.
Looking for a larger surface area product?
9″ and 18″ Models or higher