Description
Small Microheater.  S12-200-1500 Temperature typical 1500°C (2732°F).
Low Amps, High Temperature. Materials GAXP-IgMp. 1350°C-1500°C.   Hot Zone 0.5″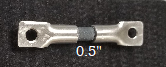 S12 Microheater 1500°C
Rapidly heat – very high rate 20-600C per second.  And about 10 seconds to glow temperature. The maximum temperature range is 1350°C-1500°C.
Temperature:  Maximum continuous Low Amps, High Temperature. Materials GAXP-IgMp. 1350°C-1500°C.  Continuous temperature not to exceed 1500°C (2732°F).  Common use 1350°C (2462°F)
Volts:  12V each. If two units are used in series 24 V.
Size of Microheater: Cylindrical Part  ~ 2″ long**.  Lug region is 0.5″ on each side.  Attach wires with optional M6 bolts shown.
Power: Up to 200W.  Power Control: An optional DC Power Controller is Offered.
Physical Details:  Heater length is 0.5″.  Total cylinder length including lugs ~2″, not including the rings or prongs required for the electrical connections.  Changes slightly with the terminal contacts chosen.  Heated Section Length ~12mm+-1mm (~0.5″)
The heater diameter is ~9 +-0.6 mm (nominal)  (Not including the terminal forks/rings shown in the picture).  Near the lugs, the diameter is ~22mm.
The maximum heater amps (~17 Amps- 20Amps ) or temperature (which should be measured with a calibrated pyrometer).
Use for continuous heating or ignition.
Connectors:
Accessory Pack M6 Bolts (picture shown) may be added to the cart from the Available Options menu.
Manufacturer: MHI Inc.USA.
Patented Heater/Igniter/Glow Plug.
A TC-Read 120V is offered as an option (includes 12″ Thermocouple K Type sheathed – wire and plug)
Click for higher power linear microheater.