Description
MHI GAXP Spiral Microheater 1400C (OD=3.5″)
Model: MC-GAXP-485
Ceramic Base Included with the MC-GAXP-485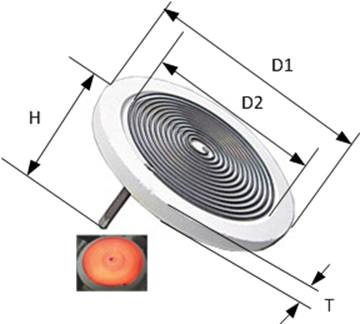 In the diagram in the specifications tab, D1 and D2 are separated by 0.1″ T is 0.25," and H is 2.5″.  D1 is the OD.
Approximately 2300 Watts [86V @ 27A (RMS)]
** Power reported under free radiating/ no-load condition with heater resting on a provided ceramic plate. Horizontal use only – do not invert.
The maximum current/power will be different (lower) if covered. Please do not exceed the limits of current, voltage, or element temperature.
For more information, please visit our GAXP Spiral Microheaters page
For more information on the BPAN-O-PLUS controller, please click on the Power and Temperature Control Panel Pages.
Alumina ceramic is rated to 1800C.
Please note that the shipping price will be adjusted in the acknowledgment to be more accurate – to reflect the options.