Description
Microheater. Low Amp, High Temperature. High Power Microheater.  GAXP-IgMp. 1350°C-1600°C.   
Temperature:  Maximum continuous temperature not to exceed 1500C (2732F).  Microheater may be used at 1600C (~2900°F) for short durations.  Common use 1400°C (2552°F),  Rapid heat product.
Volts:  24 V each.
Size:  Heated length is 1″.  Total cylinder length is 2.2″ +_0.5″.  Lug on each side is 0.5″.  Total length ~ 2.5″ – 3.2." (customizable with lugs chosen)
Heated Section Length ~1."
Power: Up to 400W
Element GAXP-IgMp.  The more accurate measurement technique at these temperatures is a radiation pyrometer.
Use single, or,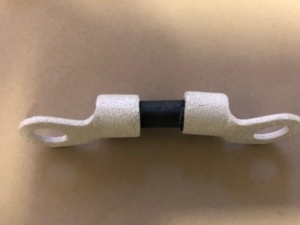 Use in a stacked array configuration.  Extremely high power density packing can be achieved.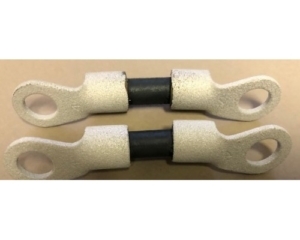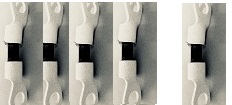 Temperature can be controlled
Electricals: Maximum power is 400 Watts.  The maximum temperature is achieved for ~ 17A with full power and maximum temperature when the S24-400 is used in moderately free radiative conditions (up to 20A RMS meter read-out in fully free-radiating conditions)
A 24V minimum supply rated for 17 Amps (variable) is the minimum required for heating to glowing conditions.
The pull-down menu offers a 24V DC (nominal) power generator/supply.  The DC supply is not with feedback controls.  For Feedback Control, choose BPAN-O-PLUS and Power Transformer that MHI will recommend.
Heating Rate:  The heater will start getting hot as soon as power is introduced to it.  Typically one will notice a glow (i.e., when it is above ~800°C) in the order of a minute when the unit is powered typically.
Connectors:  Accessory Pack M6 Bolts (picture shown) may be added.
Physical Details:  Heater length is 1″.  Total cylinder length including lugs ~2.2″, not including the rings or prongs required for the electrical connections.  Changes slightly with the terminal contacts chosen.  Heated Section Length ~12mm+-1mm (~0.5″).
The heater diameter is ~9 +-0.6 mm (nominal)  (Not including the terminal forks/rings shown in the picture).  Near the lugs, the diameter is ~22mm.
The maximum heater amps (~17 Amps- 20 Amps ) or temperature (which should be measured with a calibrated pyrometer) cannot be exceeded.  Please call MHI for emissivity settings.