Radiant Pancake Style Flat Heating Element

---
Radiant Heaters (High Power)

Choose from complex, GlowPanel™, point or spiral heater models below or please contact us to select models for your application. Upgrade any existing lower temperature heating element (electric heater) you may be currently using with the UPESP material heating elements that are rated to 1850°C. (Please see shapes below or inquire about any other custom elements which may better fit your needs).

Contact us or call us at (513)772-0404 for more information.

For Coils, View our High Temperature Coils
Flat
UPESP is a high power molybdenum disilicide or GAXP pancake radiator. The element is supported by a patented non-reactive ceramic base plate that is provided with the heating element. Ask about our standard models.
Contact us
or call us at (513)772-0404 for more information.
* UPESP-6.5 serves as the replacement heating element for the
HP220-HIGHBO-1250 Thermoplate™
.
Please email us or call (513) 772-0404
Igmp™ Microheater Models
Special elements with 2 Amps ~ 1600°C


Model #
Size
Power
Maximum Temp

12V Models

24V Models


Customized length and igniter dimensions made to customer requirements. Contact MHI.

s-12, s-12-200

MicroIgniter GAXP (IgMp) - 12V, 2A

20 Watts and Upward
Use from 1200-1600°C
(Varies by model)
Thermocouple access point in ceramic base for reference temperature
*Not suitable as a hot-plate.
Use as Radiative Heater Only.
Please email us or call (513) 772-0404
Testimonials
From Some Of Our Many Satisified Customers Using our Heating Elements
Ron P., Cleveland
"Your elements have lasted at least 3X of the original mfg."
C. K. , OH
"I've been using your elements for a long time and I have no complaints everything is working well."
Researcher, Major US University
"...used at 1450°C... MHI MP1800 elements... ran over 2000 cycles... best ever seen by a long shot."
M.G., PA
" I wanted to try your silicon carbide elements because I have been very happy with the performance of your molybdenum disilicide heating elements. Yep — I've been using them for a few years now."
Researcher at another Major University
"Now using in 7th year." 2006
Note from MHI --- We have been aware for some time that our elements are the best in the world, based on customer feedback. However even we were surprised by the life some users are getting from them. Users should recognize that the life depends on maximum temperature of use and other factors. MHI elements reach 1900°C... are we your supplier? (also see our articles in Technical Articles on how to choose the best element for maximum productivity).
Leo M, Pennsylvania
"We are very happy with the heating elements, the MP1800™ last for us. MHI has supported us completely with very good service."

"I would like to thank Kevin and MHI for recommending the use ... (Petrox™) elements. These new elements have been very successful in our process. We could not perform our Preventative Maintenance on our ovens without the use of these elements. When we would check our connections we would break the ends of our elements due to the fact that they would adhere to the elements that are connected to braided straps. It's been a great help. Thanks again, Leo."
Electronic Control System Options (single phase or three phase installations)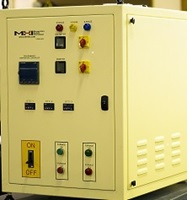 Thermoplates are available, please give us a call at (513)-772-0404 for additional information.