Now Offering 1 Year Warranty on Heating Elements for Certain Classes of MHI Furnaces. Please contact MHI for full details.
For easy purchase of spare parts visit our store – (spare parts)
Very often the secret to high productivity lies in good uniformity in the furnace/oven. For production ovens, uniformity is a key concern for ensuring quality. Energy efficiency and uniformity are increased by improving the delta-star transition where feasible.
Does good convection enhance uniformity? (read article)
An example of an Airtorch oven shown below..  Airtorch units come with easy attachement exits. 
In the picture below three Airtorch™ units introduce hot air from the top!  MHI offers many types of modern single phase and three phase controls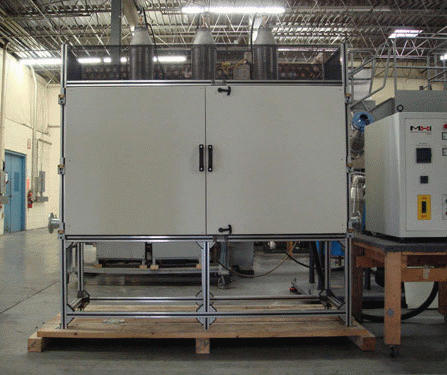 Custom Convective Oven with Airtorch.
Simplie and Clean.
MHI Airtorch™ (heated-air or process gas) or MHI OAB® (superheated steam) are easy to pipe into any chamber
Pipes should have good insulation ~2″, regards Airtorch and OAB speeds are so high and locations so accessible for a furnace that losses are minimized.