Description
RR Robust Radiator Diameter ID=3″.  This is the coil diameter.  Outside approximately is 6″ OD and 5″ Length. 
Power:3KW  220Volts.  This close to a 220V plug in.  Regardless if not monitored or controlled it can be overheated.
(Picture is shown with optional SS Casing).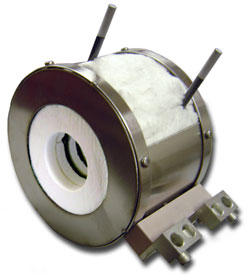 Optional: Tube with two end caps may be placed in the Robust Radiator.  Tube will protrude at least 1″ beyond the RR face.  Please note that the power available from the RR for heating is lower when a tube is placed in it.  The  internal temperature in the tube will depend on the load in the tube.