Easy multi color tool-bit reconditioning with the cascade e-ion family of machines.
Less machine chatter, reduced galling, enhanced life and a smoother cut is always a good outcome.
Users report over a 40% reduction in the coefficient of friction.
MHI offers a GoldenBlue® thermal plasma reconditioning and nitride coating service whereby GoldenBlue® coating is applied to tooling, parts and surfaces. This application will provide greater hardness,  increase wear resistance and extend surface life for a variety of materials and alloys.  The GoldenBlue® service is available through MHI as well as from approved vendors.
Is there a simple way to tell if the Cascade e-Ion Plume treated part is smoother?   Less noise is an indicator of smoothness for a ball bearing, roller bearing or other part.
How do you know that the surface is harder (or has higher modulus)?  Bounce the ball bearing and watch if it bounces higher than the non-coated?
What is GoldenBlue®?
The insitu-growth coating that forms on exposure to the cascade e-Ion beam very often has low lubricity and high surface hardness.  Saves energy of machining. Saves tool resources and offers many more benefits. Please have your prototype tested free at MHI and if convinced then please consider the purchase the cascade e-ion or send to MHI for paid service. Improved coatings on high speed machine tools, cutting knives, blades and even for recoating thin razor blades when coated properly. Transform and re-use (recoat) at will, re-sharpening when possible. To prolong tool life, first identify  the various signs of wear like abrasion, fracture, chipping etc.. Both thermal and mechanical stresses cause tool wear, with heat and abrasion being the major culprits.  Reducing heat-generation by lowering the friction adds considerably to life.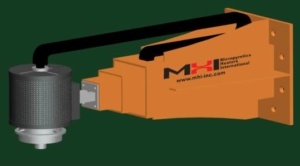 GoldenBlue® is trade name for service and multi color high-value coatings. The composition depends on the substrate. It is a sometimes a Fe-Ti-Al-N-W-C type coating for HSS. One which is which is ultra-hard and ultra-smooth. Low coefficient of friction ~0.1 ( number depends on surface). The hardness and lubricity depend on the substrate and coating thickness. A hardness of about 13GPa is equivalent to a Rockwell C of about 75 Rc however Rockwell C scale is not really meant for such high hardness or coatings. The Cascade e-Ion machines offer easy nitriding/oxynitride of tungsten cobalt, stainless and titanium alloys (almost all transition metal alloys). High hardness, good lubricity and multi-element stable coatings are made in situ by the cascade e-Ion plume impingement.
A large surface area treatment, when required, does not present a problem. For example if rails were GoldenBlue® treated it does not present a problem for size. Consider for automobile parts from engine parts to shafts and gears. When you purchase a machine you are freely enrolled in the expanding cascade e-ion group knowledge base. The coatings may be particularly useful for bolts and nuts that seize during operations i.e. for making non-seizing surfaces for automobiles, aircraft and other high temperature engine parts like bolts even for corrosive outboards. Each situation may be different, however MHI will happily do limited free-parts for your verification while this offer lasts. Please contact MHI for details. It is a new type of heat treatment with vast possibilities. MHI has introductory prices that are well below lasers, very large vacuum and gas furnaces or vacuum ion-nitriders
| Coating | Oxynitride or Carbo-oxynitride variations |
| --- | --- |
| Color | GoldenBlue®  – this is a trademark to signify the multi-color hard in situ coating. |
| Structure | Functionally Graded |
| Microhardness | >3000 Vickers (nano) as an example. |
| Applications | One of the best for high hardness, low coefficient of friction, improved drilling speeds and other benefits like less heat and less chatter depending on substrate. Use for stainless to hardened die steel to even ceramics. |
Try GoldenBlue®.  The process is simple.  Immerse or move the part in or under the special CleanElectricFlame™ that is produced by the Cascade e-Ion™.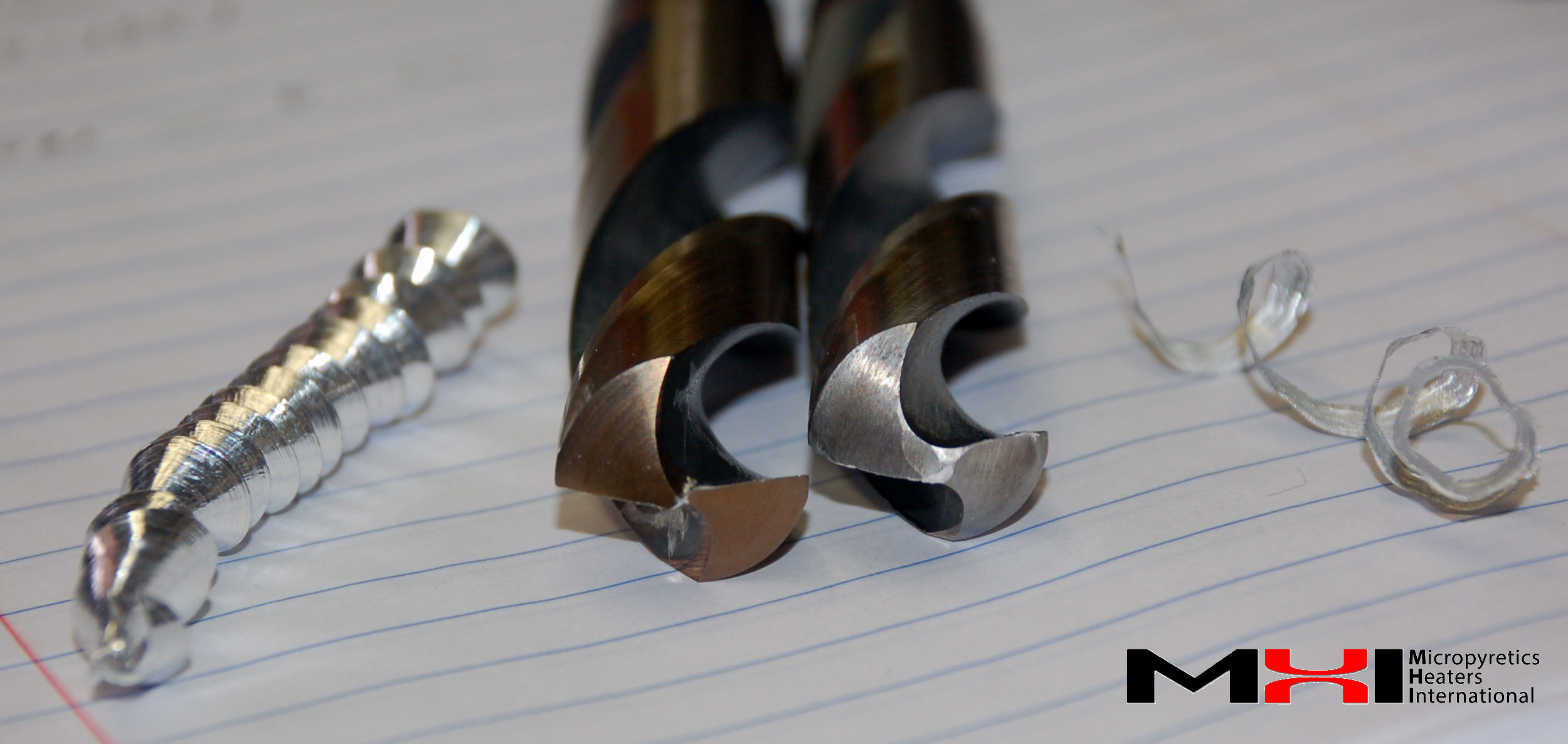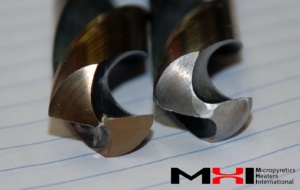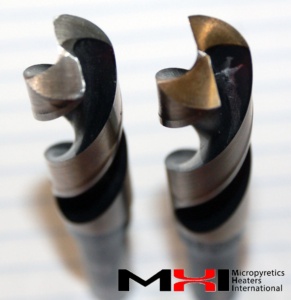 Process for about ten to fifteen seconds (for a inch or so thick part) for the build up of a four or five micron coating thickness of the type A or type B GoldenBlue® coating. The expectation one should have is for about a 15% tool life speed improvement per hole, over the uncoated (such an improvement is in the same range as the regular TiN commercial coatings, at least as noted in our limited trials). The total life improvement could be almost double (depends on part size and type).  The GoldenBlue® – B offers even better expectations of about a 25% improvement in speed over a regular HSS-uncoated. These results are not guaranteed as they dependent on specific tool type and use.
Improve carbide bits:  Yes – coating is feasible on end-mill carbide inserts. In situ-coat many types of punches, dies, and other surface.
Please do not hesitate to send us your specific tool or typical surface for trials so that your specific tool or surface can be coated for you. We can also determine if your tool bit may be reconditioned to GoldenBlue® grade.
Early stage, first time use customer testimonial:   "We ran one of the inserts on 17-4 stainless steel on our CNC lathe……..The coating did seem to make a difference. I would say at least 15 to 20% better than without it.  I ran the small insert on 1045 steel. Bored 40pc with 2 passes for each bore. One thing I noticed right off the bat was,the coating gave an improved finish over a standard insert finish. I did not have to change insert and finished all 40 pcs without the tool breaking down!"
MHI to Customer: Thank you so much for sharing the result.  Please allow us to express our gratitude and permit us to do more of your tools – of course at no charge.
Try us out at no-obligation while this offer lasts.
The available technology for surfaces and tool bit is changing rapidly.  How does one compare drills and other such tools?   The following check list may assist your evaluation.
(1) For the same sharpness (radius of the edge), compare drill or cutting time,.  (2) For same sharpness, compare the life of tool before it begins to screech or leave behind burns, (3) compare the overall cost of the value addition i.e. compare the improvement per unit cost including the cost of the of tool, cost of operations, cost of change/wait period, (4) determine whether the tool may be reused after coating and or after re-sharpening, and (5) if applicable, whether a sharpened tool may be recoated.
With the cascade e-Ion processed tools we saw better drill speed (we were able to double the speed in a drilling experiment), improved sphericity of hole, cleaner breakthroughs, smoother tapping control for tapping tools.  All this results in more energy efficiency during manufacture and drilling/tapping because of the Goldenblue® treatment/coating.
With the Cascade e-Ion processed surfaces we saw improved smoothness as measured by chatter, quality of the cut, with no seizing and less heat generation. Thus giving confident and longer lasting tool expectations.
Common high speed steel HSS composition  grades (by %wt. nominal)

Grade

C

Cr

Mo

W

V

Co

Mn

Si

T1

0.65-0.80
4.00
–
18
1
–
0.1-0.4
0.2-0.4

M2

0.95
4
5
6.0
2.0
–
–
–

M7

1.00
4
8.75
1.75
2.0
–
–
–

M35

0.92
4.3
5
6.4
1.8
5
–
0.35

M42

1.10
3.75
9.5
1.5
1.15
8.0
–
–
Contact Us for insert information