HGA-S-CX1300 High Temperature Steam Generator
High Quality Steam up to 1300°C. (Typical use 900°C-1300°C)
Optional cN-BPE for continuous adjustment 0.3 Kg/hr to 1 Kg/hr.
Click here for 400C model.  (HGA-S-01).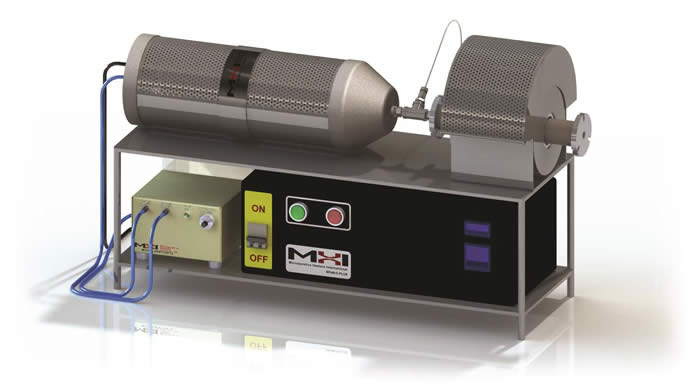 HGA-S CX1300 Details
Dry steam up to 1300°C
1 atmosphere pressure standard, higher pressures available
Plug-and-play system
1/4″ NPT outlet for easy connection to existing piping
Quick-disconnect water inlet
Standard integrated K-type process thermocouples
120V/220V AC outlet compatible
High temperature steam chamber available
Use as steam reaction chamber or pass-through steam enhancer
Optional MHI BPAN-O controller provides enhanced closed-loop feedback process control. MHI-DACS compatible
Integrated over-temperature thermocouple protects against overheating
Standard peristaltic pump allows metered water input. Adjustable range from 0-32mL/minute, higher flows available
Integrated pressure relief valve for safe operation
Approximately 2kW+ total system power for research use (this model). Higher power industrial units available
Optional cN-BPE for continuous adjustment 0.3 Kg/hr to 1 Kg/hr.
Compact design
All stainless steel construction
Highly efficient

Models based on the HGA(TM) platform steam generator:
HGA-S- 01  Up to 1 kg/hr of steam at 400°C.  HGA-S models are our small scale superheated steam generator line. It features a small device footprint and standard output ratings of 1Kg/hr of 400°C steam.
HGA-S-CX-1300 Up to 1 kg/hr of steam at 1300°C.  HGA-S-CX models for 1 Kg/hr of 1300°C steam. Standard HGA-S-CX models are optimized for laboratory scale steam generation, as well as small scale industrial production applications.