Description
MHI GAXP Spiral Microheater 1400°C (OD=2″)  MC-GAXP-130
Approximately 700 Watts [26V @ 27A (RMS)]Ceramic Base Included
** Power reported under free radiating/ no-load condition with heater resting on provided ceramic plate. Horizontal use only – do not invert. Ceramic base included with the MC-GAXP-130.  Note: the one and two inch microheaters do not have a ceramic recess.  Picture shown is generic.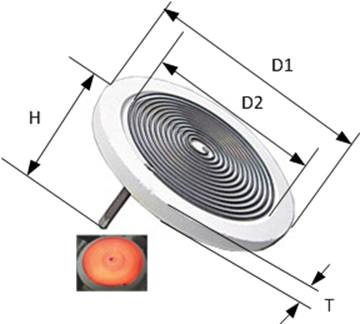 D1 and D2 are separated by 0.1″ T is 0.25″ and H is 2.5″.  D1 is the OD.
Connectors comprise of One set of appropriately rated connecting clips.
Alumina ceramic is rated to 1800C.
Note that the maximum current/power will be different (lower) if covered. Please do not exceed limits of current, voltage or element temperature.
For more information please visit our GAXP Spiral Microheaters page
For more information on the BPAN-O-PLUS controller please click to the Power and Temperature Control Panel Pages.
For controls choose either
Feedback controls namely BPAN-O-PLUS-120T and Transformer
For customers who do not have a 120V wall supply,  a 220V to 120V transformer will be added at no extra cost.
or
Open Controls with no feedback i.e. the DC Power Supply and a TC Read.  Choose also the T/C and Extension Wire Option.
No transformer is required if the DC power supply is chosen.
Please choose BPAN-O-PLUS-220 when more than 3 units of the 2″ Spirals  are placed in series
Only the BPAN-O-PLUS 120T (120V) option should be chosen when a single 2″ unit is used.
Alumina ceramic is rated to 1800°C.
Connecting wires should be rated for current e.g. 10 AWG
When checking out, the weight will be calculated with the control panel option. 
The correct weight and shipping price will be shown in the final acknowledgement from MHI.