Description
Choose the Slot Fiber-Heater Or Microtube Configuration.  The default is that both are provided i.e. with a 2mm center-hole and thin insertion slot.
Power:  ~120W
Type:  GAXP Fiber Heater or  GAXP Microtube heater.  The hole in the center can be a maximum of 2mm.
Maximum Rated Temperature: 1150°C -1200°C.  Use from 100°C-1200°C.  (For higher temperature Fiber Heaters please visit https://mhi-inc.com/microfiber-heaters-fiber-heaters/)
Dimensions 1.13″ x1.13″ x 2.13″. At 500C approximate uniform length is ~1″.   At 800°C approximate uniform length is ~15-18mm.
Slot depth (E Dimension in the diagram below) is 12 mm.  No charge for minor slot customization.  T/C included. 
Stainless Steel Casing is an option.  Please choose from the pull-down menu.
The stand is Stainless Steel and allows wide positioning flexibility for vertical or horizontal use of the slotted heater.  When unit is purchased without MHI Controls the Stand is not included.
For Control Panel Options,  please click on the specs tab.  These are either:
Option 1) VPAN +  the  TC-Read may be purchased from the optional items for Variac open-loop control and temperature display.
Option 2) A BPAN-O-PLUS and Transformer – also available in the options section.  This option provides a fully closed-loop control.   cUL Canada or UL rating is offered.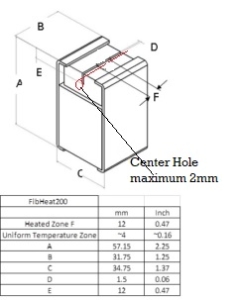 The E dimension is 12mm but alterations can be made on the order up to 15 mm.