The Most Modern Steam Generator and Boiler Technologies.  The Units Offer Independent Control of Temperature, Pressure, and Steam Output.  High control with ethernet functions.
Click to Steam Products Home Page.
If you are looking for steam, methane gas generators (lab or production scale), or steam CO2 gas generators,  please contact MHI for GHGA-M models.
If a pressure rating is not required please inquire about MHGA models.  MHI provides UL/CE-rated controllers.
A pressure vessel third-party rating is offered (e.g. Section V111. Div. 1). Electric Panel Ratings UL, cUL, and CE.

The minimum temperature is 200°C.  Pressure and flow rate are independent settings.  ASME PV ratings are provided when requested.  The control panel can be CE or UL or with cUL ratings. The flow rate can be varied from about 30% to the full amount of the specific model.  Modern HMI panels for touch screen interface for operator ease.
For high flow rate models –  OAB-100-Var and OAB-50-Var.

On-Demand Steam: GHGA™ and MHGA™, or GHGA-M or MHGA-M choice of models.
GHGA™, when the back pressure  expected, is more than 2Barg.  MHGA™ when it is less.  Please specify in the RFQ.
From 2 Kg/hr to 12 Kg/hr Scalable Super-heated Steam with variable flow and variable back pressure.
For 40-180Kg/hr please click here
Control the flow and temperature independently with flow and power controllers.  Independent pressure control.
Visit this page, particularly if:
You are looking for high-efficiency on-demand high-temperature steam generators or steam gas mix generators.
You are looking for independent control over temperature, flow rate, and pressure
You are considering changing from a large combustion boiler to a clean steam generator including discrete generators for every station
If you are planning new fuel and CO2 conversion or related technologies
if you have to optimize steam chemical reactions for syngas.
When dedicated to sustainability and efficiency with steam generators.
If you prefer to decouple pressure and temperature in your steam output.
When very high temperatures say 400°C, 800°C, or 1300°C steam is critical for use.

GHGA – Scalable Platform  Models/Features.  Set the flow, temperature, and pressure independently. Set flow on a touch screen HMI.

GHGA – M  Scalable Platform  Models/Features for Air Gas Mixes.  Set the flow, temperature, and pressure independently. Set flow on a touch screen HMI.

The OAB® and GHGA™ steam generator systems will change the way you think of super-heated steam in regards to installation, safety, size, fuel production,  and operational costs.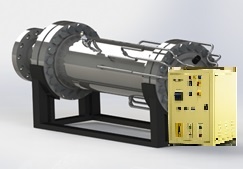 Extremely easy operations for settings.
On-off steam. On off any gas mix.
For fine-tuning pilot process development for quick scale up to production.
UL rated Panels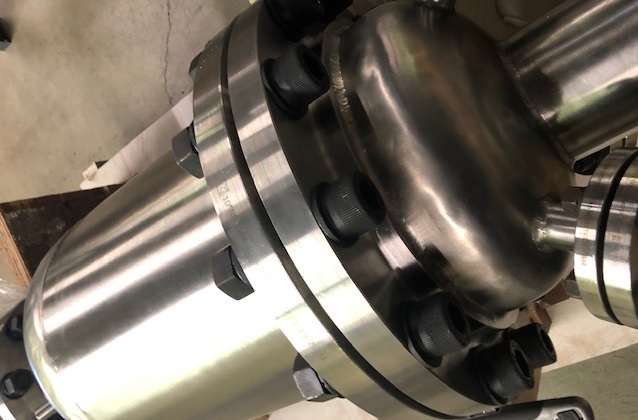 Typical and frequently asked questions:
Q: I  need a variable steam rate generator at a maximum temperature of 400°C to 800°C.  Can I use your steam generator GHGA models?  Ans:  Yes, the GHGA models are the correct choice for variable flow and variable temperature requests.    The price will also depend on the pressure vessel rating and range of variable (adjustable) steam flow. Typically we are asked for 3-6 Kg variable or 4-12 Kg variable steam at the high temperature with unit-adjustable backpressure.
Q: Can you provide a shell of 40 Bar. Ans: Yes we can provide ASME Section V111, Div 1 standards with external rating.
Q: Can I get a touch screen HMI control panel.  A: Yes, of course, this is our standard on some models.
Q: I have a 49 KW boiler, can I use your steam generator instead?  Ans: Yes: The closest fit is the GHGA-36-(PV) or the OAb-50.  Unlike boilers, the steam generator units can be on-off at will.  No idling required.  The temperature output of the steam will be between 150C and 800C depending on the model, flow settings, and power settings.   The GHGA-36-(PV) unit will produce 36 Kg/hr steam at the maximum temperature.  The OAB-50 unit will produce 50 Kg/hr steam at the maximum temperature The price will depend on the pressure required and other selected features.  The lowest-priced systems are when the steam flow rate is fixed.
Q: Do steam generators work differently than boilers? Ans. Yes, steam generators work differently compared to pressure boilers (1) they are instant on-off, no idling required (2)  in a clever way the pressure will only build to the maximum line requirement to improve the efficiency (3) temperatures can be set for very high temperature with high-quality dry steam, and (4) they can be easily matched to other line or cross-line pressure flows.  Saves energy.  Adds to the world sustainability index. Allows for new reactions and higher productivity options to be explored.
Q: I have a 200 Bar steam line that feeds the entire industrial testing plant, can I use discrete 40 Bar steam GHGA units from you?  Ans:  Yes the savings are enormous and chances are that you will also be converting from coal, oil, or gas-fired boiler to a clean electric unit.  On-off at will.  Use units at discrete locations.  No dangerously long piping at high pressure and no idling.
Q: Antimicrobial steam? Yes, please contact MHI for data on antimicrobial or sterilization quality steam. Visit the steam application page.
Versatile instant steam generator with independent control of temperature, flow, and pressure functions.
Q: Are your Panels UL, cUL, or CE rated.
A:  Yes one can order with any of these ratings.
Q:  What are your typical pressure vessel standards.
A:  Please contact MHI.  Our typical standards are ASME Section VIII Div I.

Very accurate high temperature steam is required for pharma. Please select the GHGA models.
MHI provides the most efficient steam delivery flexible tubes.
Want to find out how MHI can help you meet your steam needs?
Please fill out a quick questionnaire by clicking on the product of interest.
We will help find a good solution to meet your needs.