Superheated Steam/Gas Premix Generator
High Specific Humidity Device
HGA-M-900- 12-PV

Air steam mix from 300°C to 900°C. Up to 6Bar.

HGA-M-01
Supersaturated steam with over 50% specific humidity is possible with the HGA-M
| | | | |
| --- | --- | --- | --- |
| Model | Output | Power | Voltage |
| HGA-M-01 | Superheated Steam/Air or Gas Mixture. High Humidity Device. | 1KW | 110V 50/60Hz |
| HGA-M-900-12-2(PV) | Superheated Steam/Air or Gas Mixture. High Humidity Device. | 18 KW | 208-240V 50/60hz |
Typical Settings for 1 KW unit HGA-M-01
The following tables are for a particular pump - pumps are subject to change and the user should caliberate their pump readings for the flow rate
for the water ratio to the flow rate of air that is set by the flow meter. MHI provides detailed manuals with every sale. The flow guide is provided in the instructions.
Steam Calculator, Productivity Enhancement and FAQ's |Physical Proerties of Moist Air/Gas | What are Steam and Humidity?
Typical Humidity Settings for the 1 KW Device HGA-M-01
Pump Setting #
(PP/120/12)

Approximate HGA-M-01 Steam/Air Exit Temperature, °C
Typical range only
Highest Specific Humidity Allowed
(typical only)
4
621-627
call
5
577-583
call
6
534-548
call
7
452-464
0.14
8
132-162
0.17
9
121-158
0.33
9.9
98-110
0.62
At high flow settings, condensation could occur (steam seperator) depending on use. Note that the specific humidity is not the same as relative humidity (please see articles for definitions for a review of humidity terminology). For Pure Steam Models click here.
HGA-M-01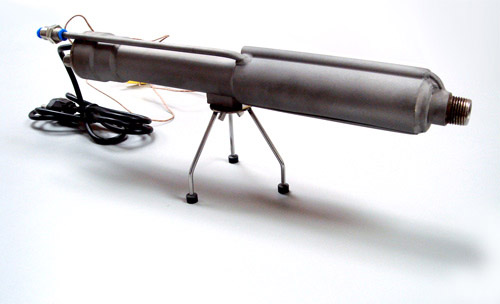 Model HGA-M-01 Superheated Steam Generator with stand.Steam gas integrator.

Peristaltic pumps discussed are only typical. The exact model will be provided with the quotation.
Setting numbers above depend on the model supplied.
Click here for High Efficiency Steam Recirculating Ovens
Article on HGA output for steam and superheated steam.

Read an article on "Drying with steam or drying with air - a case study for clay, wood, food processing, etc".
Patents granted and pending