Description
THE HGA-M-01 is a unique device that provides low to high-humidity air or gases like CO2, N2, Ar, and He mixture with H2O. The maximum power is 1KW for this unit. A high-temperature superheated mix of steam-air or steam-gas output. Note that the parameters for air and steam are given in the Unit Features tab. The unit has adjustable humidity.
The high-humidity steam/air mixtures will have varying temperatures depending on the mix. Please review the unit features in the adjacent tab.
Superheated steam is an odorless high-temperature gas (not to be confused with hot water mist). OPUMP-1 (water pump) is highly recommended for metering the water flow. Several more options are available and recommended. The airflow control option (flow meter) is generally required. 
The BPAN-O-PLUS option is required only if power adjustment is contemplated. Please ensure minimum air and water flow to prevent burnout when using without using the BPAN-O-PLUS power controller.
Voltage: 110VAC (please note that a t 220-110V transformer is provided for countries where 110V is not standard). Please indicate the request on the pull-down menu in the selected options. The transformer can be used with the BPAN-O-PLUS models regardless of choice, i.e., BPAN-O-PLUS (110/115) or BPAN-O-PLUS (240). Please note that the transformer is rated for running the unit and the pump when used in a configuration socket – transformer-BPAN-O- PLUS (110/115)  (optional only if power adjustment is required). Please have a qualified electrician install the unit.
Frequency: 50/60 HZ
Current: Approx. 9 Amps @ 110VAC
Power Consumption: ~1000 Watts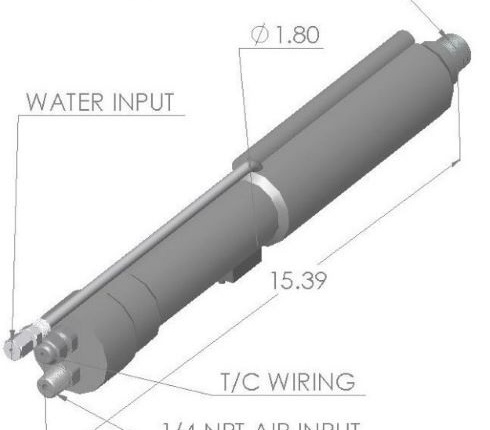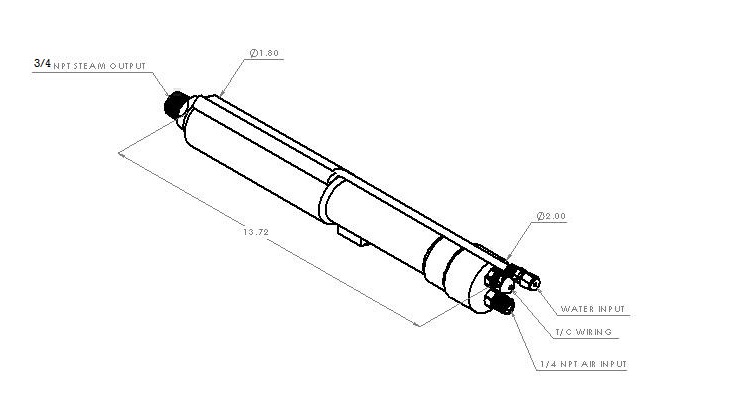 The size envelope is ~18″ x 2″ in Diameter without legs.
Safety precautions must be taken when dealing with hot gasses, including steam.
Safety: PLEASE DO NOT USE UNIT  ON COMBUSTIBLE LIQUIDS. THE DANGER OF SUPERHEATED STEAM SHOULD BE WELL UNDERSTOOD. PLEASE WEAR GLOVES, GLASSES AND A HARD HAT. PROTECTIVE CLOTHING IS REQUIRED. STEAM CAN PENETRATE CLOTHES. Patents applied and pending.
Installation: Installation and use manual provided with the product. The airflow generator is in the user's scope.
Options: The control thermocouple for the hot air generator part is included. Steam output temperature thermocouples and brackets are sold separately, or user may provide their own on their part. An electrical 110-120V 50/60Hz supply is required for this unit. 1 KW system requires compressed air input. Compressed air is user scope.
Picture of TC, TC Extension Wire, and Stand in Packaging.
Typical Use: Where high temperature and high humidity steam is used, such as antimicrobial, soil, drying of ceramics, and sanitation. Use also for process simulation.
For NeverDown(TM) unit -replacements, please contact MHI at [email protected] at 513-772-0404 with the serial number.
Please click on the specifications tab for a typically expected performance at a known setting. Not all the setting widows for power mixture and temperature are known.
If the BPAN-O-PLUS power controller is not purchased, maximum power will require a minimum of 2.5 SCFM Airflow.
The temperature is controlled by water flow, airflow, and power controller (if purchased)