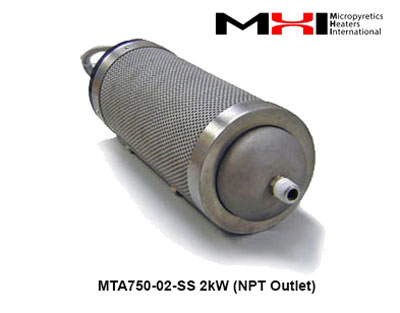 MHI's Airtorch®  line of process heaters takes the uncertainties out of your heat processing needs. With unparalleled energy efficiency ratings, high reliability, and uniformity, you will enjoy less downtime and a lower total cost of ownership. MHI Airtorch® units outperform in life, inlet temperature, and outlet temperature. Contact MHI.
Please click here for the home page and a complete electric process air/gas heaters list.
This is the entry page for Airtorch Models in the MHI web store. Please click on the pictures below to see the web-store listings.
MHI offers a comprehensive line of air and gas process heating tools with models available providing heat up to 1200°C. MHI Airtorch® models are compatible with fans, blowers, and compressed air and gas systems. (With required attachments)
Not sure which Airtorch® is suitable for your application? Visit our Selection Guide or view the Airtorch™ Infographic.
Our Airtorch® line is easy to integrate into existing systems, including cable conveyors, bucket elevators, screw conveyors, and pneumatic systems. Airtorches® offers flexible layouts, gentle product handling, higher throughput, small footprints, and higher energy efficiencies in an enclosed, dust-resistant system. Suggested uses include simulations, shrink packaging containers, pallet sealing, heating conveyor ovens, heat tunnels, adhesive activation, drying bottles, glue drying, ink drying, sealing, bonding, laminating, curing, and many other applications. Airtorch® devices can easily be integrated into existing systems.

Display 15 Products per page