Description
Airtorch Model: LTA750-04 (220V/230/240V, Nominal 4kW). 50/60Hz. Maximum inlet 75C Maximum Outlet 950C.  Use from 100C to 950C output.
Cartridge Type Hot Air Generator.  4 kW Total Power (Nominal @ 240V).  4 KW is the power at 240 V.  If the supply is 208V, Please note one will only obtain a maximum of ~3.3 KW.  For 230 V, the power draw will be 3.9 KW.  For 277V, Single Phase is restricted to the output of 500C.
Unit Description: LTA Airtorch® Heavy Duty Industrial Air Heater System Model LTA750 series is an inline air heater with continuous hot air discharge designed to generate hot air temperatures of ~900°C continuous use or 950°C with intermittent use.   The LTA 750-04 has an Outlet 2″ NPT.   Inlet 1/2″ NPT male. Inlet gas not to exceed 75C.
The picture shown may be illustrative only.  The Airtorch® comes with an in-built Type "K" thermocouple – standard.
Such hot air guns find application in plastic welding, heat shrinking of thermo-plastics, ceramic drying, on-site heat treatment, plastic forming, and many more. The unique steel shell construction provides for efficient heat recovery and management, which provides hi-temperature discharge at very high efficiency. This recuperating design eliminates radiant heat loss while enhancing efficiency and maintains a cooler outer shell temperature.
Note: Parts of the surface are hotter than 50°C (DO NOT TOUCH), providing greater operational efficiency but will be hot to touch.  Please wear high-temperature gloves. The LTA series comes with a 1/2″ NPTM compressed air fitting for the air/gas inlet.
Please note that the LTA and MTA products require a flow meter to set the correct flow for use. The compressed air gas source is connected to the flow meter, which then regulates flow into the LTA.  There is no significant pressure drop in the LTA.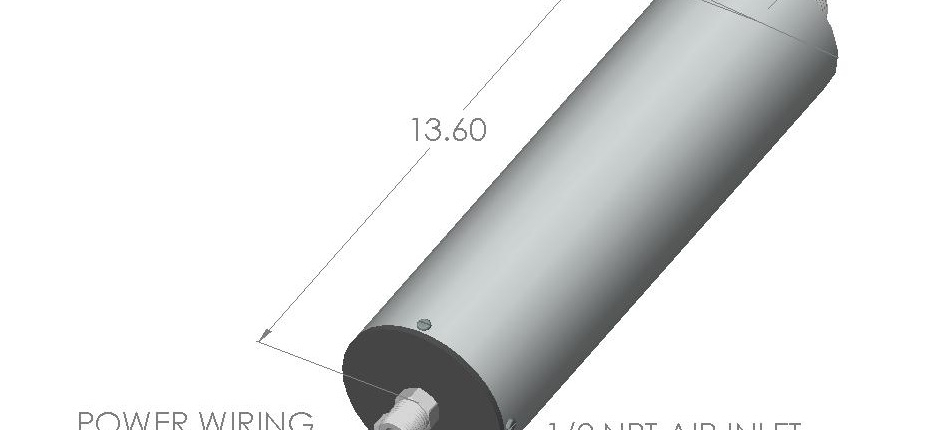 Unit Features:
Steel Shell Construction
Built-in Type K thermocouple
Lightweight with an compact ergonomic design
208/220/230/240V plug-in design
Rapid heat-up
Compressed Air/gas compatible
Outlet 2″ NPT.  Inlet 1/2″ NPT male
Specs:
Dimensions: Unit: 4.0″ dia x 15.5″ L
Air Inlet: Compressed Air or Gas (DO NOT USE COMBUSTIBLE GASES) Air Outlet 2″ NPT fitting. Inlet 1/2″ NPT male.
Weight: Lightweight with a compact, ergonomic design
Temperature: ~900°C continuous or sometimes even 950°C with intermittent use
 Airflow: ~6.5 SCFM for 900C (maintain minimum otherwise Airtorch™ may burn)
Voltage: 208/220/230/240VAC Frequency: 50/60 Hz
Current: ~ 9 Amps @ 208/220/230/240VAC  4 kW Total Power (Nominal @ 240V).  4 KW is the power at 240 V.  If the supply is 208 V please note you will only obtain a maximum of ~3.3 KW.  For 230V the power draw will be 3.9 KW.
Power Consumption: ~ 4000 Watts Output Nominal
Optional Power Control: Output temperature may be varied by changing the airflow or changing the output power in the optional BPAN-O-PLUS
Flowmeter not included.
Standard Accessories:
Display – Not included
Built-in thermocouples can be linked for external display.
If Control Panel is required.  The BPAN-O-PLUS is recommended.  Please click here.