Microheaters™ - Small Scale Heaters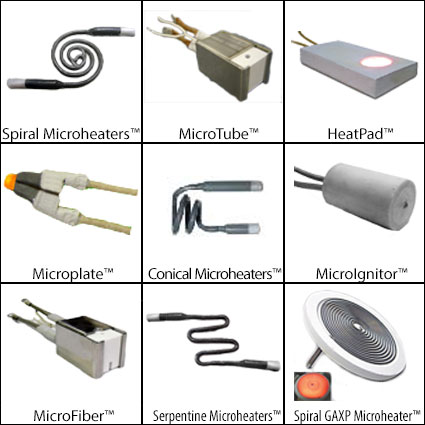 MHI offers a wide array of small to micro sized heating elements and tools.
All of MHI's Microheaters™ utilize patented NanoFractalAlumina™ and Fractalins™ materials, allowing for higher smart performance. Standard Microheaters™ are shown below, custom or special orders are available for many models. To better understand which Microheater™ line is best for your application, Contact Us or call 513-772-0404.
Note that maximum temperature for any thermal device is reported at a specific region. The objective of the use for free radiating devices is to maximize the RADIATIVE POWER transfer from the heating elements. If the heating element is used with insulation the objective of the user changes to obtain a target temperature inside the insulated region and therefore the quality of insulation matters. For either objective, one cannot exceed the rated temperature of the heating element.
For obtaining maximum temperature MHI controls are highly recommended.
Micro Igniter (Ignitor) (1600°C Models )

~2 Amps and 12 V

~6 Amps and 120 or 220 V.

Call for controls

Heat Fluids and Foams
Hydrogen Products Heater
Use as igniter
New controls available

Available Models/Sizes

General Specifications:

Maximum Temperature:
Key Selection Feature

MPT20 - 1600°C

Custom
Conical Microheaters (1000°C - 1900°C)

Request More Information

Multiple specific uses such as IR focusing

Built to Specifications Product. Please contact for specifications. (Specify diameter of both faces of cone and Lz)

Maximum Temperature:
Key Selection Feature:

General Specifications:

EXP8 -1900 for use in the range of 1600°C- 1900°C (Cone 1"-1/2")

EXP8 -1400G for use in the range of 1100°C- 1450°C (Cone 1"-1/2")

Contact Us