HGA Superheated Steam Generator 1kW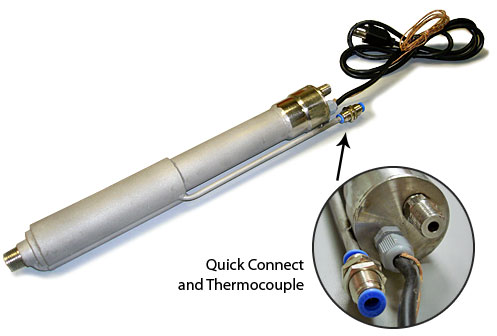 | | | | |
| --- | --- | --- | --- |
| Model | Output | Power | Voltage |
| | Superheated Steam/Air Mixture | | |
Article on HGA output for steam and superheated steam.  HGA-S-01 (pure steam), HGA-M-01 (steam-air or gas mixture)

Read an article on "Drying with steam or drying with air – a case study for clay, wood, food processing, etc".

In many solid and drag-along antibacterial use/remediation a rack of HGA-M's may be used.
High temperature super-heated steam-air or steam-gas output. Superheated steam is a odorless high temperature gas (not to be confused with hot water mist).  Several options available and recommended.
Voltage: 110VAC
Frequency: 50/60 HZ
Current: Approx. 9 Amps @ 110VAC
Power Consumption: ~1000 Watts
Potential uses: 
For drying, antimicrobial, oxidative tests,  cleaning, layering, epoxy drying and other film uses where super-heated steam is required at one atmospheric pressure. Ideal for steam drying or steam oxidation.  Product has uses in surface technologies, cleaning technologies, drying technologies, curing technologies, nano technologies.  Attempt use also for precipitating crystals of several small sizes including nano crystals from solutions.  Precipitation droplet sizes may be controlled by controlling rate of cooling, impingement conditions and type of surface. 
High Humidity Control:
Steam temperature and the relative mass of moisture in steam-air mixture (specific humidity) depends on water valve setting and air inflow setting.  This unique device can give more than 40% specific humidity at temperatures greater than 100°C(compare with a specific humidity of less than 3% in fully saturated air at room temperature i.e. air with RH=100%).  
Typical settings:
(Full power of 1 kW): Air 1.45 CFM (inlet at ~30C) and water 330ml in 45 mins (inlet ~30C) yields steam-air temperature of about 350°C. Air 1.4CFM (inlet at ~30C) and water 200ml in 20 mins (inlet ~30C) yields steam-air temperature of about 250°C. Air 1.8CFM (inlet at ~30C) and water 200ml in 20 mins (inlet ~30C) yields steam-air temperature of about 150°C.  The values above should be considered as approximate. Your results may vary with unit and the type of use.  The unit come with a manual which has comprehensive valve setting data (manual available only with purchase).
Safety precautions must be taken when dealing with hot gasses.  Please write MHI for a free manuscript on superheated steam or refer to any standard book on steam thermodynamics. The stand option is highly recommended. The stand option comes with a thermocouple which can be positioned by the user to measure the steam temperature at a location of choice.
Safety: 
DO NOT USE WITH COMBUSTIBLE LIQUIDS.  DANGER OF SUPER-HEATED STEAM SHOULD BE WELL UNDERSTOOD.   PLEASE USE GLOVES, GLASSES AND HARD HAT.  PROTECTIVE CLOTHING REQUIRED.  STEAM CAN PENETRATE CLOTHES.    Patents applied and pending. 
Installation:
Installation and use manual provided with product.
Options:
Control thermocouple for the hot air generator part is included. Steam output temperature thermocouple and bracket is sold separately or user may provide their own on their part. Electrical 110-120V 50/60Hz supply required for this unit. 1KW system requires compressed air input.
FAQ's
Q:  When do you dry with steam instead of drying with hot air?
A:  There are many benefits to using steam but the main one is the availability of a gas with a lot of stored enthalpy at a lower temperature than corresponding dry air with the same enthalpy.  So if you were interested in drying paper which has an ignition temperature of say 450°F, then the use of superheated steam at a much lower temperature may produce the same drying efficiency as hot air at a high-temperature which could be in excess of the paper ignition temperature.
Q: Is steam drying energy efficient?  Is it better?

A: The answer is YES in many applications.  Compared to boiling in hot water to remove debris, superheated steam is faster and may not require the subsequent  drying operation thus saving you time and money.  There is also the possibility that because of the large enthalpy content and higher than 100°Csteam temperature, the cleaning could be more efficient, reach tough to clean spots, and eliminate more.
Approximate height is 12" (~30 cm). Unit is approximately 15.5" long (40 cm).

Request For Quote

Click here for High Efficiency Steam Recirculating Ovens

Patents granted and pending