High-Pressure Electric Airtorch® Models. GTA and GVTA models with high-pressure enclosures.
Years of experience in MHI manufacturing and materials technology. Large Customer Base.
From KW to MW systems. High-pressure ASME-rated enclosures. CE or UL ratings as required.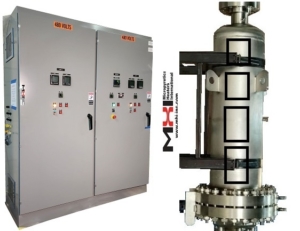 Choose MHI Airtoch® Models when the requirement includes:
High turn down
High energy efficiency. At 900°C, what does the competition offer as a flow rate? At 1000°C? At 1100°C? At 1200°C?
Very low-pressure drops
Compact units
Rapid heat-up and highly stable temperatures
MHI uses patented nanostructure surface protections
Unique HE designs for gases Hydrogen or Mono-Silane for the solar industry.
High-quality torispherical terminations on pressure vessels.
High damage tolerance.

MHI Electric Airtorch® products offer multi-stage heating.   Save substantial operating costs over gas heating.

Sometimes the efficiency of electric Devices is far greater than fossil fuel-fired heat exchangers (compare 10 MW  to 16 MW in one application).

Compared to fossil heating, 1 kWh of electric heating saves almost ~0.5 Kg of CO2 from polluting the atmosphere.

This is particularly important for several unique gas-heating solutions for decarbonization for climate change.

Heavy duty with very low-pressure drop.
Outlet 1200°C and above.
High-pressure enclosures.


https://mhi-inc.com/decarbonization-project-costing-analysis-energy-efficiency/

Compare for energy efficiency.
Ratings ASME, ATEX, UL, CE as per request.

MHI Airtorch® 3 Phase Systems: 30KW to 30MW system. Adjust Power, Flow, and Temperature with Modern Electronics.

MHI Airtorch® products offer multi-stage heating. This is particularly important for several unique gas heating solutions for climate change solutions with reactive gases.
Sleek 16 and 30 MW units.
2 Bar- 60 Bar or higher,  ASME VIII standards when required. Third-party certification is provided when required. Process Air Heaters.
Please click here for low-pressure rating units in the Megawatt range or high-wattage compact duct heaters.
Use the Airtorch® for a future with low CO2 (greenhouse gas) emissions and an abundant renewable energy supply—heat gases like  H2, CH4, and even NH3 for Critical applications. 
How much Co2 is saved by eliminating fossil fuels?
Double Walled or Insulated Internally air/gas-cooled.
Low flange stresses from low-pressure drop units—natural cooling, external air, or water-cooling.
ATEX compliance for combustible gas use such as hydrogen or methane (natural gas—process Gas Heaters.
1500 lb., and higher alloy flanges IN6XX alloys and others.
from 100KW, 1 MW, 5 MW, 11 MW, 13MW, 16MW, 30MW, and in-between. Please contact MHI (click here)
Picture of a very compact 2 MW GTA with a unique vertical configuration up to
Models, 600°C, 700°C, 800°C, 900°C, 1000°C, 1100°C, 1200°C.
Compare features with any other manufacturer.

Compare Process Heat Systems:  Compactness, Outlet Temperature Capability,  Ease of Use and Efficiency, Inlet Temperature Flexibility, Ratings, Value, and Service.
Airtorch® System Introduction
VGA, GTA units with MHI controls offer rapid power reduction or enhancement as required, temperature forgiveness, and over-temperature thermocouples along with process thermocouples
ASME codes Section VIII Div.1. Use testbed facilities for jet engines to propulsion engines.
GVTA and GTA MODELS (High Pressure) * Air, inert, and non-combustible gas ready * Shown below is the typical configuration for a 60kW- 400kW GVTA Note that the basic design follows the MVTA style or VTA style depending on temperature and pressure

 GVTA or GTA with Blind Flange Shown Above

GTA / GVTA is ideal for demanding high-pressure applications such as:

High-pressure engine sensors and exhaust
Auto and jet engine test stand
Reactors (industrial preheating)
Combustion systems
Replace combustion burners with Airtorch
Drying of fluids
Drying of powders and ores.
Simulation testers
MVTA, GVTA, and GTA are often used for combustion (simulation)
more applications…..Smartpower™ device

Low maintenance device. These units are easy to service.

MHI provides significant warranties which cover all parts, even the heater. Attractive service contracts are offered where required.
Feed troughs are sealed and marked for phase.
GVTA with (HI) opens so many testing possibilities.
GVTA with High-Temperature Flang. Several protection levels
HIGH-PRESSURE GVTA AND GTA (FLANGED) MODELS
 Please Contact MHI for details, as this is a customized product).
| | | |
| --- | --- | --- |
| Model Number | Power | Maximum Temperature |
| GTA925-02-3(PV) 3 Bar | 2 kW | 925°C |
| GTA925-04-6(PV) 6Bar | 4 kW | 925°C |
| GTA925-12-6(PV) 6Bar | 12 kW | 900°C/1000°C |
| GVTA-900-60-SH-PV | 100, 200 kW | 900°C/1100°C |
| GVTA- 1000-120 -SH | 30-15000 kW Turn Down | 900°C/1100°C |
| GVTA- 9(12)00-3000-DSH-PV | 300- 15000 kW Turn Down | 900°C/1200°C |
| GVTA- 1000-2900-DSH-PV | 300-15000 kW Turn Down | 900°C/1000°C |
| GVTA- 1000-6000-DSH-PV | 300-15000 kW Turn Down | 900°C/1200°C |
New GTA-DPF models to 1100°C
GVTA and GTA models are rated for high pressure.
All GVTA models discussed on this page are examples only. Exact specifications are quoted as per customer requirements. Temperatures are rated at standard t/c location. However, typically users have indicated minimal temperature drop within extended piping.
Pressure drop: Very low. MHI offers the DirectFlow™ Airtorch model. MHI uses its combined thermal knowledge across diverse equipment offerings to optimize and provide low-friction flows.
Choice of Temperature. Inlet three-phase voltages are 208, 220, 240, 380, 440, 480, or 600. Choice of turn-down ratios.   Please discuss this with MHI.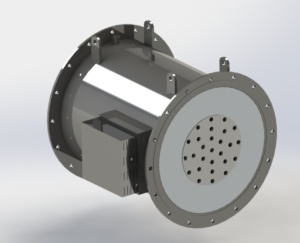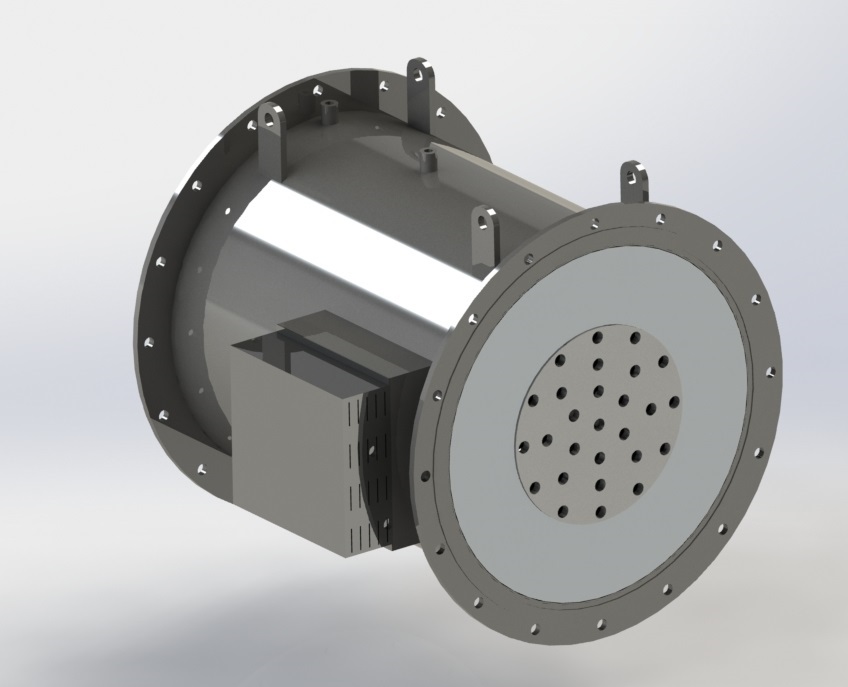 * Normal Flanged (GVTA) for 4-36″ diameter pipe (GVTA) or blind (subject to quoted specifications) ** Normal flanged for 3-8-28″ diameter pipe or blind (subject to mentioned specifications. In-line VTA high-pressure models have in-line flanges as per code.
| | |
| --- | --- |
| | TRIPAN & RPAN3 (3 units shown) |

New recommended combustible gas models: CGH-KW-(XPV)-(YPV).