Description
This 10KW VTA electric heating for Air or process gas can be used with Air, Nitrogen, inert gases, and CO2.  Two body flange model (see picture)
VTA units can be used with blowers. The pressure drop is less than 0.2 psi for up to 750C.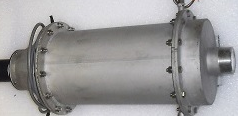 Plug in for any single-phase voltage 208V to 240V (see below for adequate power for each supply).
Stainless steel construction for low distortion.
Model:VTA500-10 (208/220V /230V/240V).
Power is  10kW 50/60Hz for a 240V input. Power is 9kw 50/60Hz for a 208V input.
Flow is ~34SCFM at 500C or ~70SCFM at 500F or ~25CSFM at 900C.
Temperature: Maximum 900°C for continuous Air. Typical use output ~ (150 – 900°C).   Control temperatures with flow variations. Power can be adjusted on the optional control panel. If a control panel is purchased, flow temperature can be adjusted with flow rate, power, or temperature settings.
Unit Description: Custom VTA Airtorch® Heavy Duty Industrial Air Heater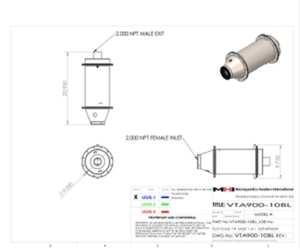 System Model VTA500 series is a fan or air heater with continuous hot air discharge up to a maximum of 900°C. Outlet 2″ NPT. Inlet 2″ NPT female (see product images). The picture shown may be illustrative only.
Outlet 2″ NPT.
Inlet NPT male.
The unit shown in the photograph fits a 9″ Diameter (at flange)  and 22″ Long envelope.
Pictures also show outlet and inlet, power chords, and T/C wires.
Note unit is a plugin with a minimum flow at full power.
Lower temperatures are obtained by flowing a higher gas amount or using the HIPAN/XPAN control temperature and power control panel.  This panel has a phase angle SCR and current limit features.
Not rated for hot input beyond 60°C.   Not rated for wet input.
Note: Parts of the surface are hotter than 50°C.   The Airtorch® has an installed  Type "K" thermocouple as a standard.  An over-temperature T/C is provided with the unit when supplied with an electrical control panel.
Unit Features:
Stainless Steel Shell Construction
Double flange model.'
The unit is not rated for pressure.
Built-in Type K Thermocouple (OTC offered with XPAN)
Lightweight with a compact, ergonomic design
208/220 or 230/240V plugin design
Rapid heat-up
Compressed Air/gas compatible
Inlet gas not to exceed 70°C
Outlet 2″ NPT.
Inlet 2″ FNPT.
1 Bar use.
208-240V 50/60Hz (Single phase).  The Wall socket must be able to provide 10 KW to the device. For the highest temperature, 240V is required. Please follow local electrical codes.
Specs:
Air Inlet: Compressed Air or Gas (DO NOT USE COMBUSTIBLE GASES) Air Outlet 2″ NPT fitting.
Weight: Lightweight with a compact, ergonomic design
Temperature: Maximum 1000°C continuous. MHI controls are recommended if used close to the maximum temperature.
Voltage: 208/220/230/240VAC Frequency: 50/60 HZ. The picture shown above is the approximate unit. It fits a 9″Diameter envelope (at flange)  and a 22″ Long envelope.
Power Consumption: ~ 10 Kilowatts Output Nominal@240V. It may be used plugin for 208V or 220V, or 230V. At 208V, the power is slightly lower.
Power Control: Output temperature may vary by changing the airflow or the output power in the optional control panel.
Optional: XPAN™ is required if power and temperature control options are needed. Please contact MHI.
Flowmeter not included. Fan not included.
Standard Accessories:
Display – Not included- optional
Built-in Thermocouple can be linked for external display.
For users who want power adjustment along with temperature control adjustment or wish to use at a lower than the maximum power, an XPAN Control Panel 208V/220V/240V is recommended. The units plug into the 208/230/240 V plugin as long as the minimum flow of about ~25-28 SCFM is maintained, and the unit flow does not exceed the minimum temperature. Please contact MHI at 513-772-0404 for electrical control panel quotes or use the pull-down menu above.
Generally, when operating close to the maximum rated temperature, it is advisable to use SCR-based controls with a rapid Overtemperature cut-off T/C (thermocouple) and the process T/C. These are available in the XPAN panels. MHI can provide this extra T/C.  Please select the options menu.