Save Water and Save Energy.  Clean High Quality Steam.

Why use high-temperature superheated steam?  
This type of steam is used in applications that have a critical need to reduce the processing time.  Superheated steam offers a high heat transfer coefficient and a very high enthalpy content, thus enabling many unique uses.  When at a high temperature, especially above the inversion temperature, such steam is often considered a non-toxic antimicrobial agent.  Superheated steam at high temperatures also offers superior reactions for example in energy reactions such as bio-fuels, reforming, hydrogen production, ammonia production, and denaturing, all with rapid heat transfer kinetics. There is no moisture from the start-up. The steam wicking properties and oxygen control are attractive.  High-temperature steam leads to high-productivity applications.
Steam Rate Flow Control: Discrete and Continuous Modes Are Available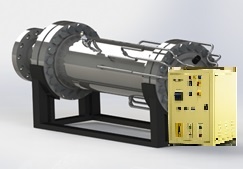 The OAB® and GHGA™ steam generator systems will change the way you think of super-heated steam in regards to installation, safety, size, fuel production,  and operational costs. 
Please contact MHI for details, information requests, or quotes.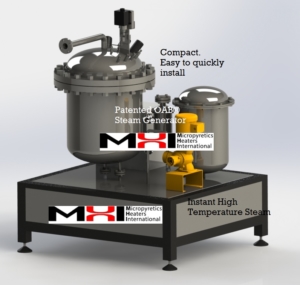 The picture above is for a 180 Kg/hr., Steam Generator
Back to the MHI steam pages

Pictorial Synopsis of MHI Steam Generation Systems
OAB® Single Phase

Pure Steam, Rapid Start-up, No moisture.

HGA-S-CX-1300 Systems

Pure Steam 1 Kg/hr up to 1300°C

HGA-M High Specific Humidity Device. 

 

HGA-S and HGA-S-P Models.

Power Steam Jet

Discover Steam Tunnels