From 1 Kg/hr to over 1 ton/hr from 120°C to 1300°C
Variable rate, variable temperature, and variable back pressure.
Save Water and Save Energy—clean, High, Quality Steam.

Why use high-temperature superheated steam?  
This type of steam is used in applications requiring a critical need to reduce the processing time. Superheated steam offers a high heat transfer coefficient and a very high enthalpy content, thus enabling many unique uses. Such steam is often considered a non-toxic antimicrobial agent when at a high temperature, significantly above the inversion temperature. Superheated vapor at high temperatures also offers superior reactions, for example, in energy reactions such as bio-fuels, reforming, hydrogen production, ammonia production, and denaturing, all with rapid heat transfer kinetics. There is no moisture from the start-up. The steam-wicking properties and oxygen control are attractive. High-temperature steam leads to high-productivity applications.
Steam Rate Flow Control: Discrete and Continuous Modes Are Available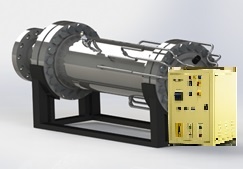 The OAB® and GHGA™ steam generator systems will change how you think of superheated steam regarding installation, safety, size, fuel production,  and operational costs. 
Please contact MHI for details, information requests, or quotes.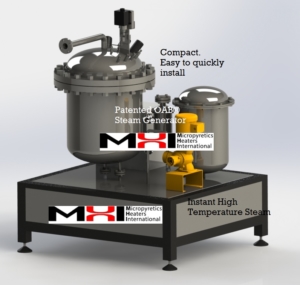 The picture above is for a 180 Kg/hr., Steam Generator
Back to the MHI Steam pages