MHI Airtorch™ High Temperature High Flow System
800°C/900°C/1000°C /1100°C/1200°C
3 Phase
MHI life warranty of one year includes heaters. It is based on the rated exit air flow temperature.
(Compare to others for airflow temperature)
MHI Airtorch™ 3 Phase System:
High uniformity. Sealed. Flanges and mating flanges provided as described.
Continuously adjustable air flow and temperature with flow valve and MHI power controller.
Adjustable air temperatures from ambient when ordered to1100°C. (Air flow temperature)
Several safety features. Multiple thermocouple locations.
PID controls, choice of TRIPAN, I-TRIPAN, RPAN on-off controls
New* MVTA (THN) advanced systems from 36kW, 72kW or higher kW. Beat all prices.
Pressure drop is low. For more information and specifications please contact MHI,
MHI offers DirectFlow™ Airtorch models. MHI uses its combined thermal knowledge across diverse equipment offerings to provide low friction flows.
Use for flow simulation, rapid drying ceramics and metal, high temperature flow induced chemical thermodynamics, test beds, efficient drying.
The Airtorch is a SmartEnergy device.
Inlet temperatures can be high on specific models. Choice of supply voltage. 50/60Hz.
MHI control panels handle all voltages 220V, 240V, 380V, 440V, 480V, 600V.
High Pressure in-line please click here. For more information and specifications please contact us,
High Temperature Inlet Models. Exit to 1100°C (2012°F.)
Properly multiflanged.
No-sound is emitted by Airtroch process heating methods
*Unit Life and Safety: MVTA units provide forgiveness for temperature exposures beyond their rated capacity even up to 100°C for many models. Even for the 1000°C models. Calculate 3 phase electric power?
Models (THN)

Power

Maximum Temperature

Voltage, 3 Phase

36kW - 1000kW

(1000kW ~ 3,414000 BTU/hr)

Robust Design

208/220/

240/380/415/

440/480/600 Volts
For very high pressure and high temperature greater than 800C units GVTA or GTA models please click here.

Cluster Models and High Volume Models with High Temperature Inlet
High Pressure and high temperature greater than 800C units GVTA or GTA models
please click here.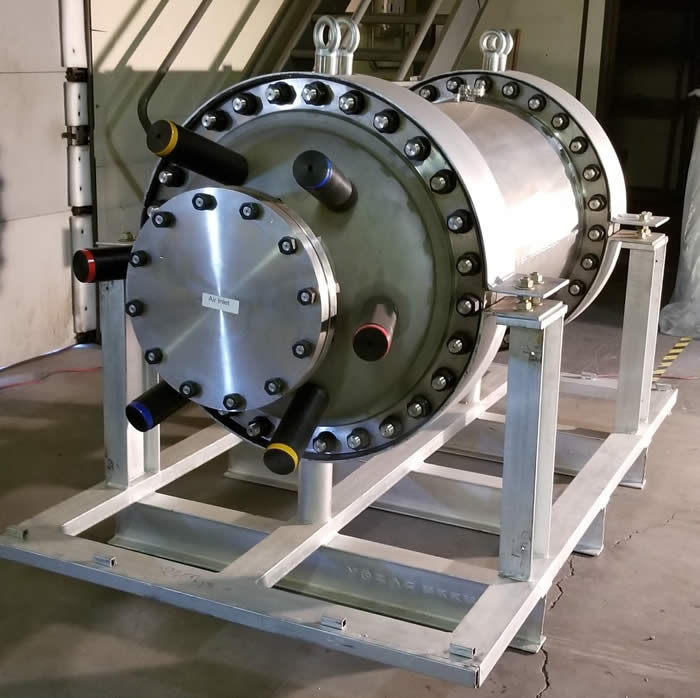 THN Models Have Cone Down Flanges Included.

Airtorch™ High Power, Three Phase Systems.

Contact MHI for your specific energy savings

Patented Products up to 1200C

MVTA model for 72 or 144 kW (1000°C).
*For high kW in both the GTA and MVTA Airtorch class, please note that MHI provides a 1 year warranty and no-cost of heating element change for 1 year. Double flanged units, ASME-flange specifications. Please contact MHI.
The high power three phase Airtorch™ configuration yields a large amount of high temperature convective air and may be used for a variety of applications.
Use for surface heat treating, simulation, combustion tests and simulations, environment uses, preheat, drying, powder sintering, test beds, and large and continuous ovens.
MHI Airtorch systems are extremely energy efficient. Stainless steel or other flanged sealed systems provide both energy efficiency and conservation.
New and improved with incredible warranty on heating elements.
Contact MHI - Typical Applications

Use of good certified and MHI tested blowers is recommended. Fans are employed only when the drop in pressure of the system is no greater than approximately 50 in. w.c. (50 in. w.c./inches of H20 is approximately 1.8psi).
This condition remains true even when the fan can output large CFM values. Blowers are considered in circumstances where larger pressure drops are present.
MHI offers some of the most highest density in-line heaters based on MHI Patents. MHI improves its already top of the line Airtorch models with continuous additional patent technology.