Description
Hot Air/as Generator Model: LTA750-02.  Cartridge Type Hot Air Generator.
The maximum outlet temperature is 900°C.  Outlet temperature can be 100°C to 950°C.
Air Flow is ~4 SCFM to 900C. Inlet ~40C
Airflow is ~5 SCFM to 750C.  Inlet ~40C
The maximum inlet temperature is ~75°C.
The picture shown may be illustrative only.
The typical is 900°C continuous use. (The unit can also produce air up to 950°C intermittently).
Use pressure  -one atmosphere.
The LTA series has a 1/4″ NPTF compressed air fitting for air/gas sources.
The Airtorch® comes with an in-built Type "K" thermocouple.
Air/gas compatible
900-950°C Max. Use.
Model: LTA-750-02 (208V/220V / 230V/240V) , 2kW Nominal at 240V ~ 2.5 KW at 277V, 2 KW at 240V, about 1.75 KW at 208V.
For 208V to 230V, the exit temperature will be 850°C.  (Integrated Thermocouple)
Inlet air/gas not to exceed 75°C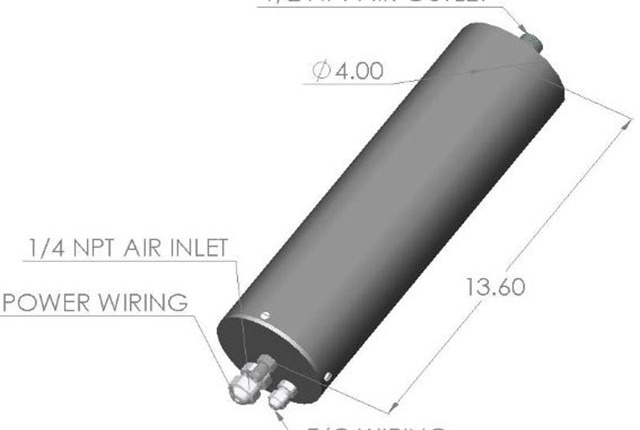 Unit Features:
Steel Shell Construction
Built-in Type K Thermocouple
Lightweight, compact, ergonomic design
208, 220, 230 or 240V plug-in design
Rapid heat-up
Such hot air guns find application in plastic welding, heat shrinking of thermo-plastics, ceramic drying, on-site heat treatment, plastic forming, and many more.
The unique steel shell construction provides efficient heat recovery and management, providing high-efficiency hi-temperature discharge.
This recuperating design eliminates radiant heat loss while enhancing efficiency and maintains a cooler outer shell temperature.
Note: Parts of the surface are hotter than 50°C (DO NOT TOUCH), providing greater operational safety.
| | |
| --- | --- |
| Dimensions: | Unit: 4.0″ dia x 15.5″ L |
| Air Inlet:  | Compressed Air or Gas (DO NOT USE COMBUSTIBLE GASES). 1/4″ NPT inlet |
| Air Outlet | 1/2″ NPT |
| Weight:  | Lightweight, compact, ergonomic design |
| Temperature: | 900C |
| Airflow: | ~5 SCFM (maintain minimum flow when used without controls) |
| Voltage: | 220/230VAC |
| Frequency: | 50/60 HZ |
| Current: | ~ 9 Amps @ 230VAC |
| Power Consumption: | ~2000 Watts |
| Output Power Control:  | Output temperature may be varied by changing the airflow or with BPAN power controllers. The flow meter is optional but recommended for flow setting. |
| Standard Accessories:  | Display – Not included |
| Optional: | LCD switchable between °C and °F. With TC-READ. |
| Included:  | A built-in thermocouple can be linked for external display. |