MHI Inc. now offers a new dimension of manufacturing with tested ideas for energy savings for the same objective but with new designs.  We call it Simplicity.   Cross platform application of our best practices.
One of our slogans is bring your designs to life with beautiful colors and creative shapes.  We have enabled designs and improved device-use to become as simple as possible.  With The OAB®-Steam, Airtorch® products, Efficient Heating Elements like the GAXP®  and the Cascade e-Ion®,  MHI is continuously striving to improve productivity with simplicity in the following sectors:
Simplicity is fully extended to the Industrial sectors.
Some examples of  new technologies and SmartMachines are discussed below for Heating, Fiber-Forming, Furnaces and many more…..
Even the very high power models are simply installed and used for Process gas heaters.  We service a host of Fortune companies.
256 KW Airtorch™ with only ~1 psig pressure drop at 1300C.
Choice of Steam Generators Choice of Pressure.
Smooth Management of Very High-power.

The Economics of Thermal Devices
How much detail should I use to specify my device?
The best price is obtained when you purchase the closest standard equipment for your desired use.
So it is best just to specify the essentials.
For Steam: Choose the power, temperature and kg/hr water usage.  Examples on how to increase productivity?
For Process Air Devices:  Chose power, and temperature.  If in-line use, specify the pressure. What are MHI SmartDevices?
For Furnaces:  Choose the Temperature and power (based on the load).  Choose furnace makers that provide at least a one year warranty on the heating elements. How distortion free stainless steel enclosures improve life and efficiency?
For Heating Elements:  Please review economics on this page.  What is GAXP?
Items to Include
These items are now basic in a new device specification.  They are best practices and should be part of your project when specifying a device.
Warranty – Ask for Warranty on the heating Element for a Steam Generator, Hot Plate, Airtorch or Furnace
Ask for Testimonials – Or look for them on the manufacturers web site.
Does the manufacturer provide several levels of tutorials – Online forms.
Online RFQ's – Does the manufacturer provide this.
Prices:  Although not always comprehensive there should be an online web store with price guidance.
Does the manufacturer talk up energy efficiency and sustainability?  Its a good practice to ask the sales agent.
Does the manufacturer believe in Simplicity of design?.
What makes a device cost more?
Here is a list of items that could drive up the price.
Short Time-Frame – The faster you need it; the more people will need to work on your order to make the deadline.   More people equals more money.
Customization– Customization could be great but highly costly.   Please be aware that the more items built from scratch, the more the cost.
Spreading out payments:  Paperwork from your end could take time – sometimes even compared to the build out.  Manufacturers routinely depend on being paid on time.  The best prices are given when prepayment is made.
Integration to 3rd Party Tools:  Choose a manufacturer that provides their own data acquisition system.  Third part tools can cost money and time.
Will I get my money back.  What is my ROI?
When choosing a product ask for typical Return On Investment Calculations if you will use it to generate revenue.
More:
Check for Testimonials and Reviews.  A good manufacturer will always post these
Is the repair policy sound,  affordable and useful.  Machines will break down – maintenance is typically 10% of the initial purchase.  Buyer should check if it is comprehensive it like the NeverDown(TM) policies.  It does not hurt if the company that you are dealing-with is at least two decades in existence.
Did the manufacturer or seller provide the quote in a timely manner. If not, it could be a symptom of  downstream delays.  There are exceptions but buyer beware.
Summary: There is obviously no one answer to how to choose your best thermal device.  The above are some guidelines that refer to good practices.
Airtorch™ Gas Heaters
Accurate, Low Pressure Drop, Easy Installation, Incredible Warranty. Superior Warranty.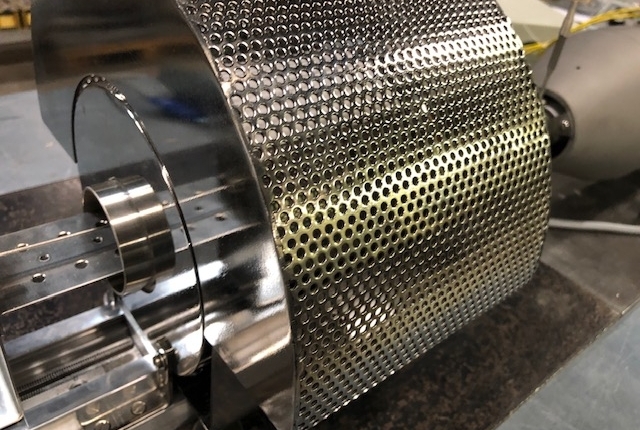 Robust Radiator™
RR, GRR and Scalable Modules Range of Power/Temperature Capability

The smallest Microheaters made by MHI are the four below.
The GiantHeater Revolution with GAXP
Energy Savings: Why Should We Be Concerned With the Quality of Energy Conservation?
If one burns fossil fuel, the best efficiency is ~50-85% for achieving a work objective. With electric energy, efficiency for an objective can be closer to 100% during conversion.  Sunlight to direct electrical work is ~35-44%.
For a quick review of thermodynamics, look up https://mhi-inc.com/Converter/watt_calculator.htm and learn about the many temperature scales!
 Pounds (lb) Weight of Carbon Dioxide per One Million BTU (293 KWhr) of Burn

(The approximate price of this much amount of energy used is US$30). 

Chances are that a US home monthly electric bill is in this order.

Note that the average human exhales about 2-3 pounds of carbon dioxide (human activity averages at about 100 Watts or 0.36 BTU/hr) on an average day (about 15- 20 lbs. a week).

Diesel fuel /heating oil

161.3

Gasoline

157.2

Propane

139.0

Natural gas

117.0

E-Ion,  Plasma, HGA or OAB® steam at device
 0.0